Peace, Power and Prestige: Metal Arts in Africa explores the roles of metal objects in sustaining and enhancing life in African communities, while demonstrating the aesthetic and expressive power of metal arts. For millennia, African metalsmiths have drawn upon the inherent power and beauty of metal to create dazzling and enduring objects including:
Body adornment and currency items for proclaiming wealth and social status.
Staffs, scepters, weaponry and other regalia as emblems of leadership and authority.
Amulets and sacred objects used in spiritual mediation.
The exhibition includes a diverse range of iron, brass, bronze, gold, copper, silver and alloyed works created by artists in Sub-Saharan Africa between the 9th and 21st centuries. The selected objects are from the Harn Museum of Art collection and private collections, most notably the Drs. John and Nicole Dintenfass collection.
Highlights in the exhibition include:
Iron staffs and figures of the Mande smiths of Mali.
Bronze and iron chiefly regalia from the Edo people of Nigeria.
Brass and iron ceremonial swords, brass adorned stools and goldweights, and personal adornment signifying prestige and leadership for the Akan people of Ghana.
Brass and copper reliquary guardian figure of the Kota of Gabon.
Cuprous currencies, ceremonial staffs and weaponry from Congo.
Iron and bronze shrine objects of the Dogon people of Mali.
Objects adorned with fine wirework from South Africa.
Ogboni society brass staffs, figures, and iron divination and healing staffs from the Yoruba people of Nigeria.
Ethiopian Christian Orthodox crosses.
Somali bridal silver jewelry.
Copper alloy sacred objects of Tusian, Gan and Lobi peoples of Burkina Faso.
The book "Peace, Power and Prestige: Metal Arts in Africa" (Samuel P. Harn Museum of Art / University Press of Florida, March 2020) is edited by Harn Curator of African Art, Susan Cooksey, and includes essays by: Jodi Berman, Elisabeth Rios-Brooks, Bolaji Campbell, Susan Cooksey, Jean-Baptiste Coulibaly, Kate Ezra, Rebecca Fenton, Jacopo Gnisci, Babatunde Lawal, Amanda Maples, Patrick McNaughton, Nicholas Nikis, Adjanie Ofunniyin, Philip Peek, Constantine Petridis, Robin Poynor and Raymond Silverman.
Peace, Power and Prestige: Metal Arts in Africa is made possible with support from the UF Office of the Provost, Dr. Richard H. Davis and Mrs. Jeanne G. Davis, the C. Frederick and Aase B. Thompson Foundation, the UF Office of Research, Drs. David and Rebecca Sammons, the UF International Center, the Margaret J. Early Endowment, Visit Gainesville Alachua County, the Harn Anniversary Fund, Marcia Isaacson, Roy Hunt, Robin and Donna Poynor, UF Center for African Studies, Kenneth and Laura Berns, and retired Lt. Col. David A. Waller, with additional support from the Harn Program Endowment, the Harn Annual fund and a group of generous donors.
Bell Research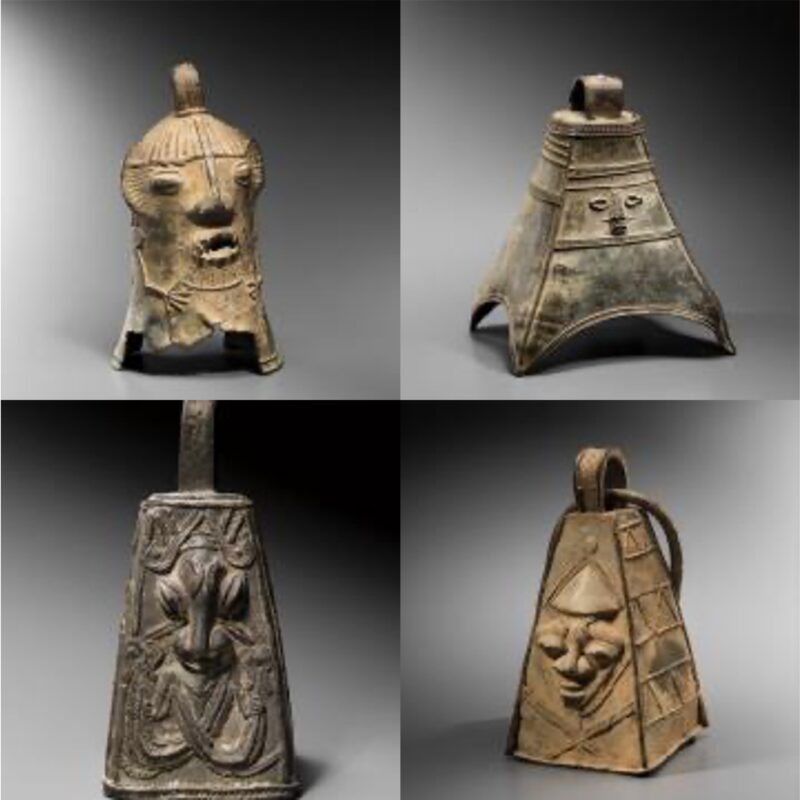 Listening to and sharing music is one way to stay connected and evoke positive memories during social distancing.
Some musical memories are uniquely understood by the Gainesville community. The bronze bells of the carillon in University of Florida's Century Tower play a four-phrase melody on the quarter hours and can be heard well past campus.
Across the Atlantic, these bells with human faces from Nigeria also played an important role in shaping social interactions. Used in ritual performance, they connected past ancestors with present communities to create inter-generational links. What songs bring together your friends and family over the internet? Which bell do you find most intriguing?
For more about the Carillon in Century Tower, visit arts.ufl.edu/sites/carillon-studio/history/ or youtu.be/XyyOa1eRWKQ
– Written by Elisabeth Rios-Brooks, Research & Interpretive Strategies #HarnIntern and 3rd year UF Anthropology & International Studies-Africa major in UF College of Liberal Arts and Sciences.
These works are on view in Peace, Power and Prestige: Metal Arts in Africa.
images: Cross River artist, Nigeria "Anthropomorphic Bell," 15th-16th century, bronze or other copper alloy; Yoruba artist, Nigeria "Figurated Ògbóni/Òsùgbó Society Bell (òmò)," 19th-20th century, brass or bronze; Ijebu artist, Bell, 17th-18th century, brass; Yoruba artist, "Figurated Ògbóni/Òsùgbó Bell (òmò)," 19th century, brass or bronze. All four works are from the collection of Drs. Nicole and John Dintenfass, photography by Vincent Girier Dufournier