Rent Our Facilities
Create a magical event surrounded by art or enjoy a peaceful setting to hold your next business meeting.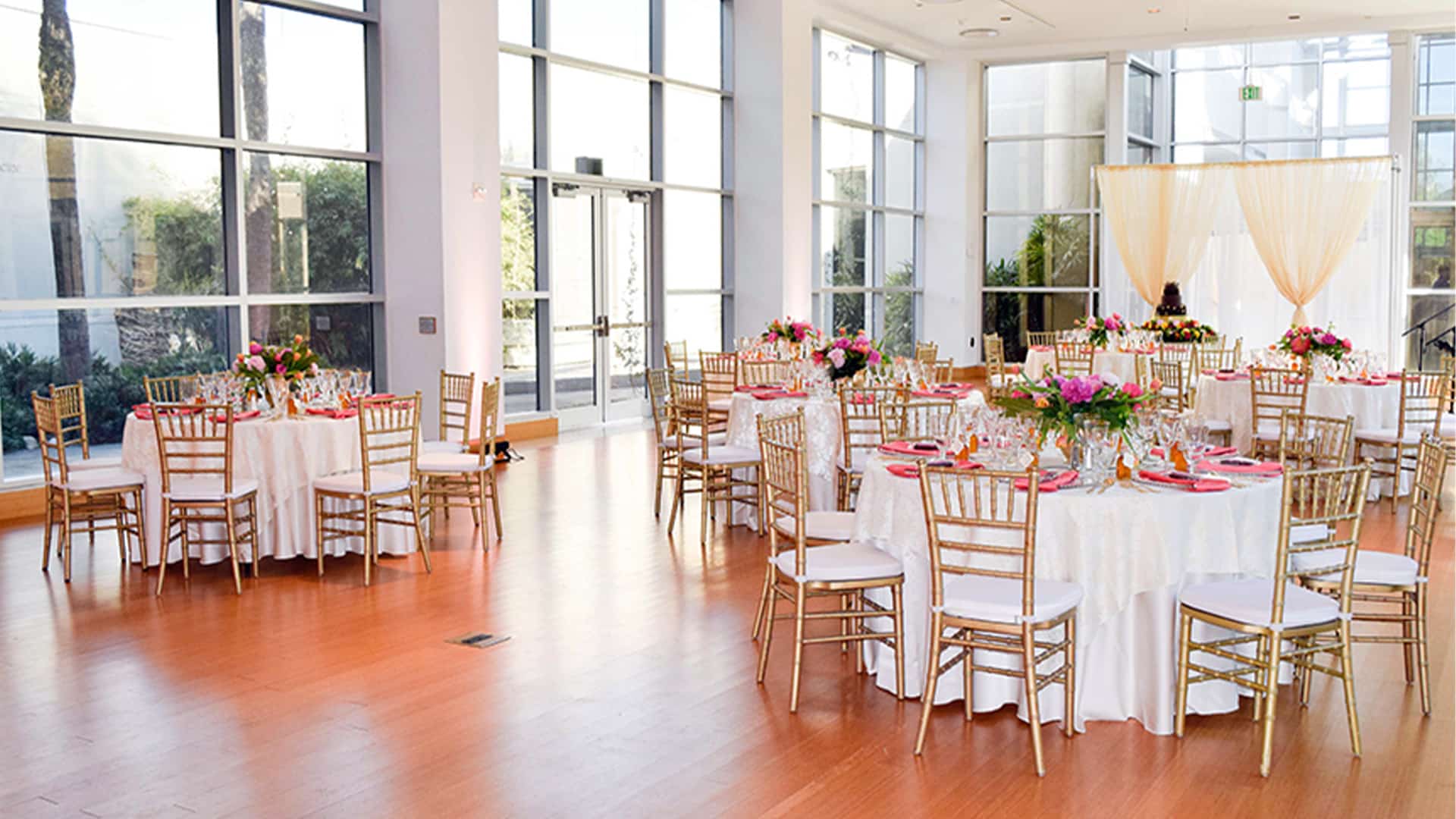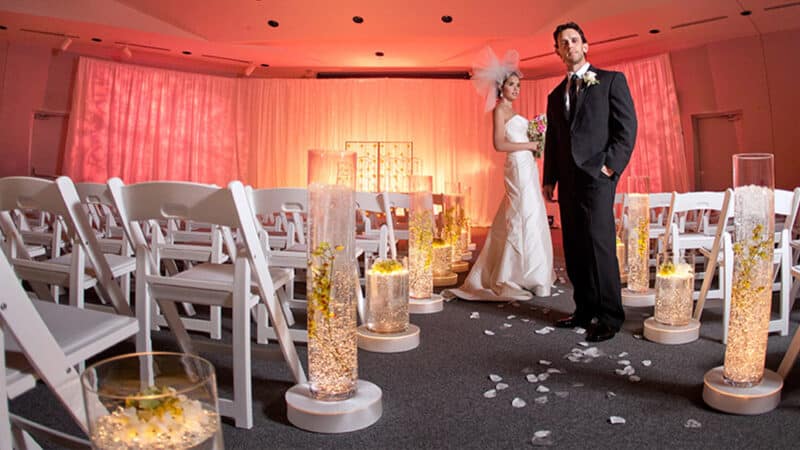 Elegant spaces to fit your event needs
The Harn Museum of Art offers multiple spaces that can be adapted to meet the needs of your next event. Large or small, we can host a variety of events including conferences, awards ceremonies, social events, business meetings, wedding ceremonies and receptions, lectures, films, luncheons and more.
Event Types and Spaces
Choose one or multiple spaces for your event. Access to all galleries, including permanent and special exhibitions, is complementary during normal business hours. If you're looking to add excitement to an after-hours event, gallery access can be added for an additional fee.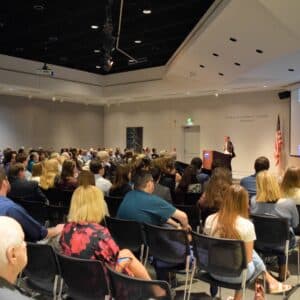 Chandler Auditorium
Maximum Capacity: 45 – 200
Depending on Layout
This multi-use space is among our most utilized because of its versatility. The room includes built-in audio/visual equipment to support a variety of events such as seated dinners, lectures, luncheons, films, conferences, meetings and seminars. The Chandler Auditorium is the perfect space to create the room of your dreams for your wedding ceremony.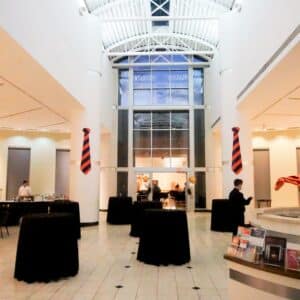 Galleria
Maximum Capacity: 150 – 250
Depending on Layout
A great space for seated and standing receptions, this area features beautiful soaring ceilings with skylights and windows on the west walls, offering views of the Magoon garden and exterior landscaping. Art is displayed in areas of the Galleria. This space is adjacent to the front entrance. The exterior water feature will greet your guests as they enter the space.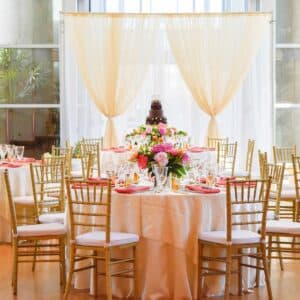 Promenade + Magoon Garden
Maximum Capacity: 100 – 150
Depending on Layout
The contemporary works of art, bamboo floors and floor to ceiling windows offer an intimate setting for a smaller reception or dinner. The promenade's windows offer a picturesque view of the Magoon garden and its palms, bamboo and water features to the North and the exterior of the Florida Museum of Natural History's Butterfly Rainforest to the South.
The Magoon Garden is the perfect "add-on" space for dinners and receptions in the promenade. Your guests will enjoy eating, drinking, and socializing outdoors surrounded by multiple sculptures and water features with lillies.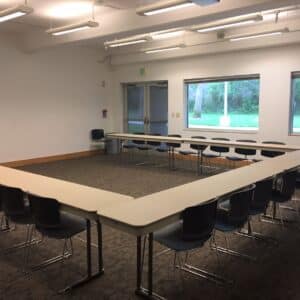 Learning Center Classrooms
Maximum Capacity: 30 – 50
Each Classroom | Depending on Layout | Available
AVAILABLE Monday – Friday, 8 am – 5 pm
Two classroom spaces can be reserved separately or together. Each is ideally suited for lectures, conferences, meetings and seminars, receptions, luncheons, dinners and other activities. Classroom 1 has large windows with natural light and access to an outdoor courtyard. Both classrooms include built-in audio/visual equipment to support a variety of events. Classroom 2 is rented at a discounted rate when both rooms are rented together.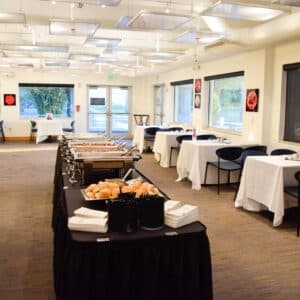 Camellia Court Café
Maximum Capacity: 60 –125
Depending on Layout | Available Mondays and after 4pm
AVAILABLE MONDAYS AND AFTER 4 PM
Located on the lower level of the Mary Ann Harn Cofrin Pavilion, overlooking the landscaped grounds and water features, the Camellia Court Café provides a unique and beautiful setting for your event.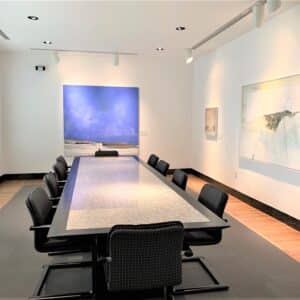 Director's Conference Room
Maximum Capacity: 10
Available Monday – Friday, 8 am – 5 pm
The Director's Conference Room seats 10 boardroom style and is excellent for VIP groups. The room comes equipped with a TV monitor for presentations and a conference phone is available upon request. Restrooms are conveniently located across the hall.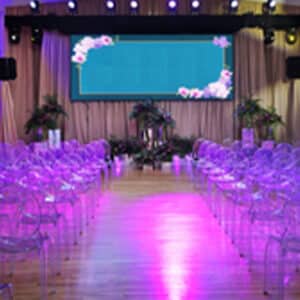 Rotunda
Maximum Capacity: 45 – 200
Depending on Layout
Full access to the galleries, a large skylight and rounded walls make the Rotunda a unique space to host a variety of events.  This is the perfect space to "wow" guests during a cocktail reception, elegant dinner, or holiday party. The acoustics in this space work well for a live band and easy access to the galleries provide an added benefit to any occasion.
Requirements to Hold a Date and Space​
Get Started
Inquiries will be answered within three business days in the order in which they were received. Thank you for your patience.
Complete Rental Inquiry Form
Review rental information and complete an online rental inquiry form to help us better understand your needs. Once submitted, we will contact you within three business days to provide additional information and schedule a site visit.
Meet with Rental Event Manager
Meet with our Rental Event Manager to discuss date availability, timing and space options.
Sign Contract & Make Deposit
Sign a rental contract and provide a deposit in order to confirm your date.
Public and Private Space Availability

Private spaces are available during normal business hours for daytime professional meetings, lectures, and conferences, or personal celebrations.

Multiple public spaces are available after hours as the museum transforms into your ideal space for banquets, cocktail receptions, or your dream wedding reception.

Approved Caterers

Palm & Pine Catering
860.405.4311 | palmandpine.catertrax.com
PO Box 118506 Gainesville, FL 32611

Cacciatore Catering
352.692.0701 | cacciatorefood.com
317 NE 35 Avenue Gainesville, FL 32609

Sweetwater Catering Co.
352.373.6760 | sweetwaterinn.com
625 E. University Avenue Gainesville, FL 32601

Blue Water Bay
352.475.1928 | thebluewaterbay.com
319 State Road 26 Melrose, FL 32666

Chef Bert Gill
Doing business as Mildred's Big City Food, New Deal Cafe and Blue Gill Quality Food 352.872.5181 | mildredsbigcityfood.com | bluegillqualityfoods.com
1310 SW 13 Street Gainesville, FL 32601

All UF groups and any group using the Camellia Court Café must use Palm & Pine Catering.
Questions?
Email rentals@harn.ufl.edu (preferred) or call 352.294.7079. Revenue from Museum rentals helps sustain programming and exhibitions. Thank you for your support!