Tours
Tours may be requested for groups of 10 or more for Tuesdays – Fridays, 10 am – 3:30 pm. Explore the museum in the palm of your hand with our mobile tours.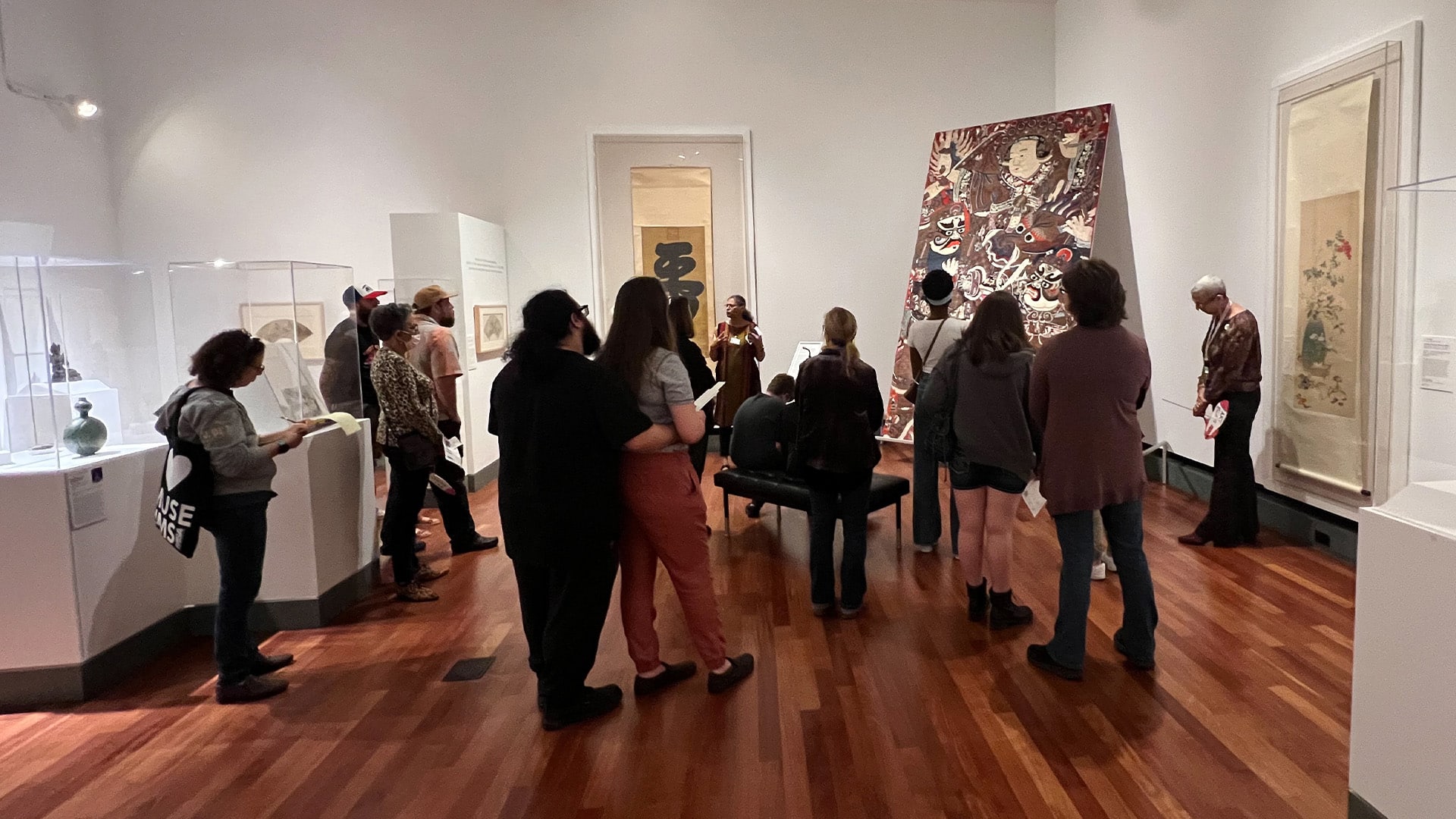 Tele-Tours for Veterans and Active Duty Military
Tele-Tours, interactive video tours, are available for Veterans and active duty military, and their families. These tours serve families who are not able to travel to the museum due to distance or health concerns. All tours are offered at no charge. This program is made possible with the support of the UF Center for Arts in Medicine, the Florida Division of Cultural Affairs, and the National Endowment for the Arts.
"The time when you suddenly see someone, whether it's a fifth grader or an adult, start to see something in art that they hadn't before, and they get excited about it. That for me is very satisfying and on fo the highlights of being a docent."

Laura Berns

Harn EMERITUS Docent Tour Guide
More Information About Tours
Museum Etiquette

All visitors are asked to observe the following museum policies during their visit:

Do not touch art objects or display cases.
Throw away food, beverages, gum and candy before entering the galleries.
Turn your cell phone to silent mode.
Turn off the flash on your cameras (non-flash photography for personal use is permitted) unless noted otherwise.
Use only pencils in the galleries.
Check prohibited objects at the museum's Information Desk. This includes backpacks, large bags over 11 x 14 inches, umbrellas and rigid baby carriers.

Museum Parking

Parking is free on weekdays after 3:30 pm, and all day on Saturdays and Sundays. Monday through Friday, parking is available for $4 at the kiosk in front of the museum. Free handicap parking is available near the entrance to the museum.

For individuals with a valid University of Florida parking decal, "all decal" parking is available in the lot and parking garage in front of the Cultural Plaza.

Bus parking is available in the paved lot north of the UF Cultural Plaza on Bledsoe Drive at no charge and drivers are advised to drop off passengers directly in front of the museum entrance.

Accessibility

The museum is accessible to people with disabilities. Wheelchairs are available. TDD phone access is provided through Florida Relay Services at 800.955.8771. Large print versions of exhibition text are available by advance request in the Bishop Study Center by calling 352.294.7064.