The University of Florida's Harn Museum of Art is excited to introduce Art After Dark. Thanks to a private grant of $300,000 the museum will remain open to the public until 9 pm every Thursday beginning Jan. 5, 2023. The extended hours offer Harn visitors more time to explore the permanent collection, experience special exhibitions, shop in the store and enjoy food and drinks while listening to music in the museum's rotunda.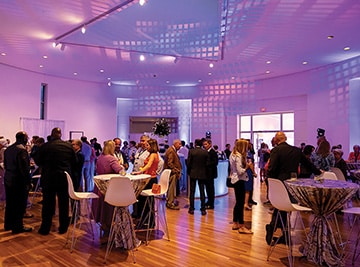 "The Harn is a campus and community destination, and we are pleased to be able to extend our hours every Thursday night thanks to generous private funding," says Dr. Lee Anne Chesterfield, Director of the Harn Museum of Art. "In addition to offering free admission, the Harn strongly believes that the museum will be accessible to more visitors by staying open later these evenings. Providing more hours outside of the museum's currently offered Tuesday through Saturday 10 am – 5 pm and Sunday 1 – 5 pm schedule will allow our visitors additional opportunities to spend time at their art museum."
This change also arrives just in time for the Harn's upcoming exhibition Posing Beauty in African American Culture, allowing visitors more time and opportunities to engage with world class art. Included in these extended hours, the Harn will continue its monthly Museum Nights program, which occurs the second Thursday of every month from 6 – 9 pm. The Camellia Court Café will be open and feature food and drink in a casual setting. The Harn Museum Store, offering art-related merchandise from books and jewelry to notecards and home accessories, will also be open.
Admission to the Harn Museum of Art is free.
Back to all news