The Harn Museum of Art at the University of Florida, in collaboration with The Cuban Arts Group, is presenting a new exhibition offering a glimpse into the complex culture and history that has inspired Cuban art throughout the 20th century and into the 21st century. Under the Spell of the Palm Tree: The Rice Collection of Cuban Art is on view from July 11, 2023 to Jan. 7, 2024.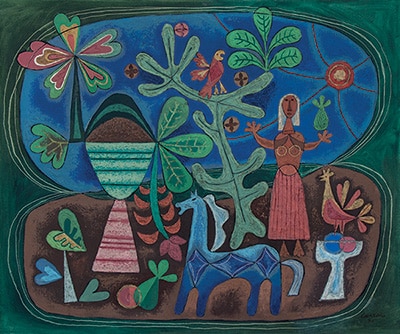 Under the Spell of the Palm Tree presents the narrative of a "crossing"—a virtual crossing of the seas as well as a crossing of generations, of artists living or having lived both in Cuba and in the Diaspora. Guest Curators Gabriela Azcuy and David Horta, working with Harn Chief Curator and Curator of Modern Art Dulce Román, selected 79 paintings, drawings, photographs, prints, mixed media, art books and sculptures to provide a comprehensive view of Cuban Art organized along six themes: The Language of Forms and the Forms of Language; The Prophet's Dream; The Great Journey: Archives; The Sensory Landscapes of Memory and Desire; The Musings of Narcissus; and The Spirit of the Real, the Reality of the Spirit.
"Susie and Mitchell Rice are dedicated to expanding and enhancing their collection's ability to represent the breadth and richness of Cuban art," said Guest Curator Gabriela Azcuy. "They wish to share their collection with the public through thoughtfully curated exhibitions and a diverse educational arts program."
Under the Spell of the Palm Tree: The Rice Collection of Cuban Art includes the work of 54 artists representing modern masters, members of the so-called "generation of true hope" of the 1970s, the "Cuban renaissance" generation of the 1980s, the generation of the 1990s, as well as younger artists who have gained international visibility. A full list of artists follows at the end of this release.
"We are honored to present to the University of Florida and Gainesville community a vibrant and diverse collection that is a testament to the immense talent, creativity and resilience of the Cuban people," said Harn Museum of Art Director Dr. Lee Anne Chesterfield. "Through this exhibition, we hope to showcase the beauty, complexity and variety of Cuban art and artists, and to provide a platform for their voices to be heard."
A fully-illustrated catalog accompanies the exhibition, with essays by Curators Gabriela Azcuy and David Horta, and edited by Harn Chief Curator and Curator of Modern Art Dulce Román. Multiple public programs will be offered providing an opportunity for visitors to engage in conversation about the works on view. These include talks by the collectors and artist José Bedia. Visitors can also view the exhibition in the evenings on Thursdays until 9 pm as a part of the Harn's Art After Dark program. A list of featured programs follows at the end of this release.
The presenting sponsor for this exhibition is The Cuban Arts Group with additional support provided by the Jessie Ball duPont Fund; Ken and Laura Berns; Fine, Farkash and Parlapiano, P.A.; Visit Gainesville, Alachua County; Bryson Foundation; Gayle Olson; Rick and Aase Thompson; and other generous donors.
Artists whose work is on view in the exhibition include Belkis Ayón, Abel Barroso, José Bedia, Cundo Bermúdez, Tania Bruguera, Iván Capote, Salvador Corratgé, Mario Carreño, Liset Castillo, Carlos Enríquez, Roberto Fabelo, Carlos Garaicoa, Pedro de Oraá, Juan Roberto Diago Querol, Roberto Diago, Adrián Fernández, Ernesto Javier Fernández, José A. Figueroa, Inti Hernández, Alex Hernández, Ricardo Miguel Hernández, Jesús Hdez-Güero, Wifredo Lam, Alberto Lago, Jorge Lavoy, Ernesto Leal, Glenda León, Kadir López, Jacqueline Maggi, Manuel Mendive, Frank Mujica, Chino Novo, Pedro Pablo Oliva, Mabel Poblet, Eduardo Ponjuán, René Portocarrero, Ángel Ramírez, Sandra Ramos, Enrique Riverón, René Francisco Rodríguez, José Rosabal, Lázaro Saavedra, Emilio Sánchez, Tomás Sánchez, Esterio Segura, Rafael Soriano, Alfredo Sosabravo, Stainless (Alejandro Piñeiro, José Capaz and Roberto Fabelo Hung), José A. Toirac, Alexi Torres, Antonio Vidal and José Ángel Vincench.
For more information visit www.harn.ufl.edu/underthespell. Admission is free.
Programs
A highlight of programs, free and open to the public, includes:
Museum Nights
Noche de Museo
Thursday, September 14, 6 – 9 p.m.
Visitors will experience art and culture from across Cuba and Latin America through tours and activities. This is an ongoing program made possible by the generous support of UF Student Government and the Office of the Provost. Sponsored in part by the State of Florida, Department of State, Division of Arts and Culture and the Florida Council on Arts and Culture. Additional support for this evening provided by UF Center for Latin American Studies.
Artist Talk
Thursday, October 19, 6 p.m.
Artist José Bedia will discuss his work on view. A living master draftsman and installation artist, Bedia left Cuba in the early 1990s for Mexico and later relocated to Miami. His work is a singular synthesis of the artistic traditions of Africa and the indigenous Americas.
Collectors' Talk
Saturday, October 21, 6 p.m.
Collectors Susie and Mitchell Rice, Guest Curators Gabriela Azcuy and David Horta and Harn Chief Curator and Curator of Modern Art Dulce Román will join in a conversation about collecting and supporting the dynamic artists of Cuba.
Museum Days
Saturday, October 28, 1 – 4 p.m.
Visitors of all ages can enjoy activities, art making and tours offered in conjunction with the exhibition.
HESCAH Scholar Talk
Thursday, November 2, 6 p.m.
Rachel Weiss, Professor (emerita), School of the Art Institute of Chicago will present "Los Carpinteros and the Meaning of Beauty: An Argument about Activism and Visuality in Cuban Art." Made possible by the Harn Eminent Scholar Chair in Art History (HESCAH) program.
About the Harn Museum of Art
Founded in 1990, the Harn Museum of Art is an integral part of the University of Florida. The Harn contributes to an interconnected, international community by integrating the arts and culture into curricula throughout the university's system of colleges and centers. Its holdings include more than 13,300 works in five main collecting areas: Asian art, African art, photography, modern art of the Americas and Europe, and international contemporary art. The museum also has noteworthy collections of Oceanic, Ancient American Art and works on paper. In addition to rotating installations drawn from its permanent collection, the Harn organizes traveling exhibitions and virtual educational programs for adults, students and children.
The Harn Museum of Art, at 3259 Hull Road in Gainesville, Florida, is part of the University of Florida's Cultural Plaza, which is also home to the Florida Museum of Natural History and the Phillips Center for the Performing Arts. Admission is free. Hours are 10 a.m. to 5 p.m. Tuesday through Saturday, 10 am – 9 pm Thursday, and 1 to 5 p.m. Sunday. For more information visit harn.ufl.edu.
About The Cuban Arts Group
Dedicated to enriching and strengthening cross-cultural connections through the arts of Cuba, The Cuban Arts Group, a 501 (c)(3) non-profit organization, is a collaborative effort between those passionate about the arts, and history, from the U.S. and Cuba. Founded in 2015 by Susie and Mitchell Rice, The Cuban Arts Group builds on the cultural evolution that has taken place—and continues to grow—both on the island and throughout the U.S. Cuban diaspora. The organization's mission is to educate Americans about Cuban arts and culture through exhibitions and a diverse educational arts programs involving Cuban artists, art educators, curators, historians and writers.
Back to all news