Art Bridges Foundation Launches $40 Million Nationwide Access for All Initiative to Reduce Barriers to Museum Visits
The Harn Museum of Art at the University of Florida has received $280,000 in funding from Art Bridges Foundation's Access for All program to continue the museum's popular Art After Dark program through December 2026. Art After Dark offers visitors extended hours until 9 pm every Thursday evening. These hours provide more time to explore the permanent collection, experience special exhibitions and enjoy activities, food and drinks while listening to local musicians on select evenings.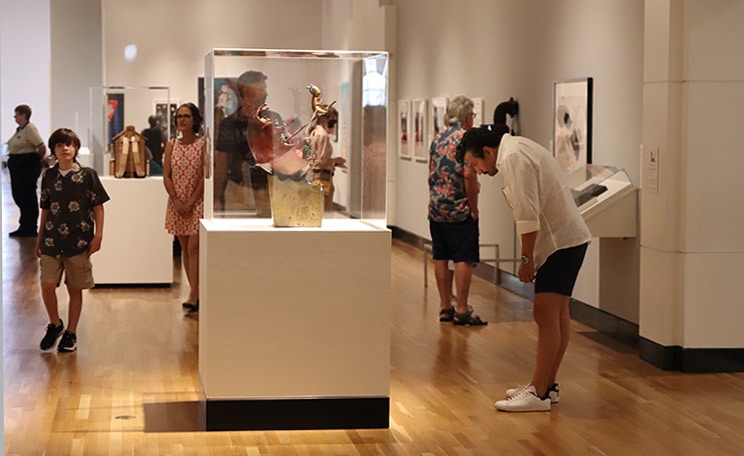 "Thanks to an initial gift from a private foundation, the Harn has been open and free to the public on Thursday evenings since January 2023," said Harn Museum of Art Director, Dr. Lee Anne Chesterfield. "Now, thanks to the generosity of the Art Bridges Foundation's Access for All program, Art After Dark is fully funded until 2026. This generous support will allow the museum to provide a gathering place for the community every Thursday evening. We are very pleased that the Harn's attendance numbers are setting all-time records thanks to the museum's extended evening hours."
Art Bridges Foundation, the national arts nonprofit founded by philanthropist Alice Walton, announced Oct. 11 the launch of Access for All, providing $40 million in funding to 64 museums nationwide. The initiative aims to increase access to museums across the country and foster engagement with local communities by covering the costs of free admission days and expanded free hours as well as programming, outreach and community partnerships that together, will eliminate many common barriers to access.
"Everyone, no matter where they live, deserves access to art. That's why we started Art Bridges: to support museums in deepening their connections with local communities, and to pave the way for new audiences to experience the creativity and joy that comes with seeing art," said Alice Walton, Founder and Board Chair of Art Bridges. "Access for All is our biggest and most ambitious effort to date, dedicating $40 million toward bridging gaps between museums of all sizes and their communities in order to foster meaningful connections and expand arts access in every region, from Peoria to Puerto Rico."
"We are thrilled to launch Access for All, a historic partnership with cultural institutions across the country to make it easier for people in every U.S. region to see and experience art. At Art Bridges, we can't wait to see our trusted partners get creative and deliver impact to their communities," Alice Walton said. "In the wake of the COVID-19 pandemic, we are confident Access for All will not only help to rebuild museum attendance but also bring more people than ever into museum galleries and reshape the arts world as one that is open to all."
Among the 64 partners representing a broad range of locations are the Howard University Gallery of Arts (Washington, D.C.); Museo de Arte de Puerto Rico (San Juan, PR); Plains Art Museum (Fargo, ND); Portland Museum of Art (Portland, ME); San Diego Museum of Art (San Diego, CA); Whitney Museum of American Art (New York, NY); Wichita Art Museum (Wichita, KS); Yellowstone Art Museum (Billings, MT) and the Harn Museum of Art (Gainesville, FL). The full list of participating museums can be found on the Art Bridges website.
For more information about Art After Dark visit www.harn.ufl.edu/artafterdark. Admission is free.

About Art Bridges Foundation
Art Bridges Foundation is the vision of philanthropist and arts patron Alice Walton. The mission of Art Bridges is to expand access to American art in all regions across the United States. Since 2017, Art Bridges has been creating and supporting programs that bring outstanding works of American art out of storage and into communities. Art Bridges partners with a growing network of over 220 museums of all sizes and locations on nearly 700 projects across the nation, impacting over 4.1 million people, to provide financial and strategic support for exhibition development, loans from the Art Bridges Collection, and programs designed to educate, inspire, and deepen engagement with local audiences. The Art Bridges Collection represents an expanding vision of American art from the 19th century to present day and encompasses multiple media and voices. For more information, visit artbridgesfoundation.org.
About the Samuel P. Harn Museum of Art
Founded in 1990, the Harn Museum of Art is an integral part of the University of Florida. The Harn contributes to an interconnected, international community by integrating the arts and culture into curricula throughout the university's system of colleges and centers. Its holdings include more than 13,300 works in five main collecting areas: Asian art, African art, photography, modern art of the Americas and Europe, and international contemporary art. The museum also has noteworthy collections of Oceanic, Ancient American Art and works on paper. In addition to rotating installations drawn from its permanent collection, the Harn organizes traveling exhibitions and virtual educational programs for adults, students and children.
The Harn Museum of Art, at 3259 Hull Road in Gainesville, Florida 32608, is part of the University of Florida's Cultural Plaza, which is also home to the Florida Museum of Natural History and the Phillips Center for the Performing Arts. Admission is free. Hours are 10 am – 5 pm Tuesday through Saturday, open late until 9 pm on Thursday, and 1 to 5 pm on Sunday. For more information visit harn.ufl.edu. Admission is free.
Media Contact:
Tami Wroath
Director of Marketing and Public Relations, Harn Museum of Art
352.294.7067
twroath@harn.ufl.edu
Back to all news