Article by Eric Segal, Education Curator of Academic Programs
Monday mornings throughout the Fall semester at the Harn Museum of Art have seen a group of UF students gather for a course inspired by Florida art on view in the Bishop Gallery. Any given session had students at the museum studying art in the gallery; meeting in a museum classroom; exploring museum storage; discussing Florida art, history and ecology; or workshopping their writing. The semester was devoted to experiential learning, extending studies beyond the classroom to the world across, around and beyond the university, in a course centered on Florida Impressions, the Harn's current exhibition of The Florida Art Collection gifted by Samuel H. and Roberta T. Vickers.
The Florida in the Frame course—offered through the UF Honors Program under the listing of IDH 2952-(Un)common Arts—viewed a single exhibition through many lenses. The project examined outstanding works of art, spanning more than two centuries, that reveal hidden aspects of Florida. Students in the class studied with a dynamic group of scholars to view art from a variety of perspectives, and they met with museum professionals to develop insights into how art museums function.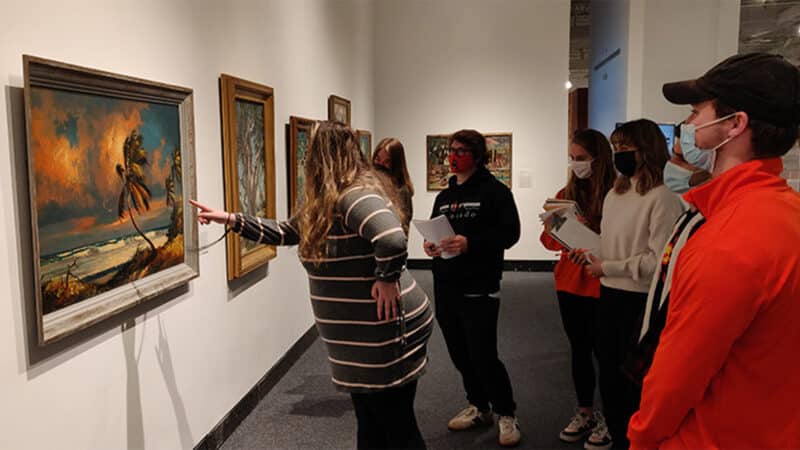 Students enrolled in the course came from majors in Art History, Biomedical Engineering, Business, Chemistry, Economics and French. Among them was Kaitlyn McCarty (Biomedical Engineering) who observed, "I was first drawn to Florida in the Frame because I was looking for a course that would allow me to continue actively learning about art and art history while at UF. I was especially excited to see that Florida in the Frame would be held in the Harn Museum, which would create an interactive and interesting approach to learning about art."
The course began with a series of sessions to introduce students to issues concerning how collections are formed and how museums manage, care for, display and interpret art. These meetings included gallery tours, conversations with Dulce Román, Chief Curator and Curator of Modern Art at the Harn, and a behind-the-scenes introduction to Registration and art storage with Jess Uelsmann, Senior Registrar, and Beth Hinrichs, Assistant Registrar and Preparator.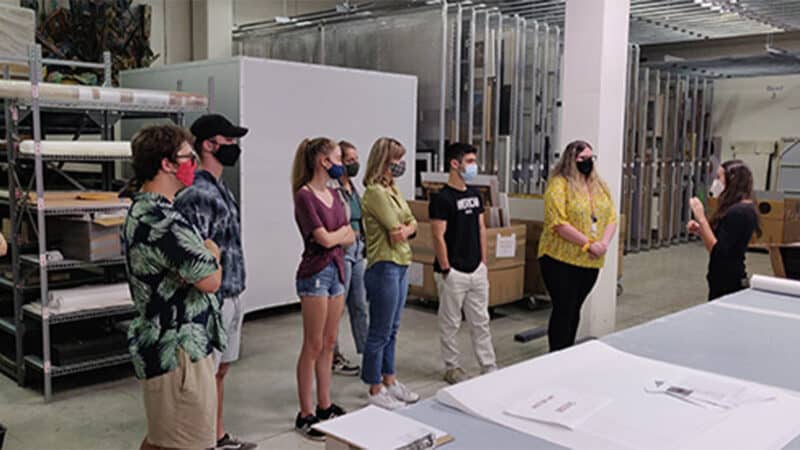 After exploring the works from the perspective of museum professionals, students then encountered an unfolding series of perspectives on Florida art through the disciplines of art history, botany, environmental history and global history. Jack Davis, UF Professor of History and Rothman Family Chair in the Humanities, situated the collection in the long history of representations and transformations of Florida flora and fauna dating back 500 to 1,500 years. The class dug into the coastal landscape—the subject of so many paintings in Florida Impressions—with Jack Putz, Distinguished Professor, UF Biology. Professor Putz helped students see the transformation of the landscape from moments captured in 19th century paintings to today (check out the video titled Sea Level Rise Art and Science with Jack Putz and Eleanor Blair on YouTube).
In a session sparked by Prise de Pensacola, an 18th-century French print in the collection, Jessica Harland Jacobs, UF Professor of History and expert on Britain, helped students to understand Florida in a global colonial context emerging from struggles between France, England and Spain, while attending to indigenous and enslaved peoples in early Florida. With a more art historical focus, students analyzed images of Florida in relation to the history of landscape painting; the depiction of indigenous peoples and of African Americans; and the development of tourism and hotel culture. Other lectures focused on specific artists including Martin Johnson Heade, Thomas Moran and Harold Newton. For Kaitlyn, the interdisciplinary lectures were enriching opportunities "to consider Florida art from multiple viewpoints."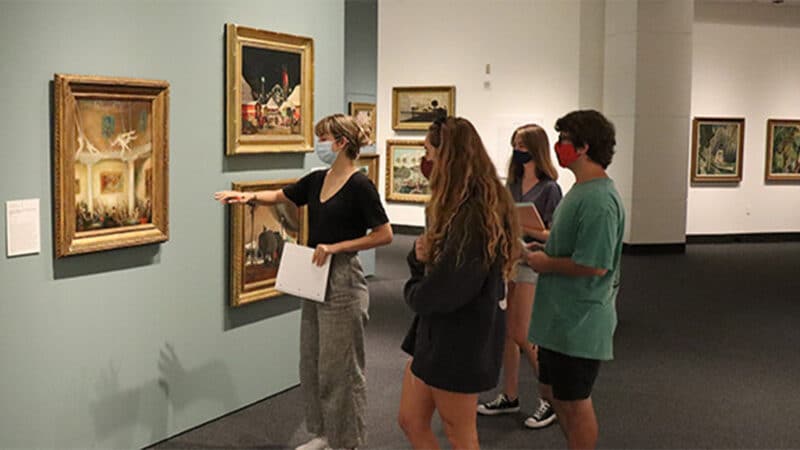 Exercises and assignments throughout the term culminated in a final project consolidating what students learned in the museum and contributing to visitor engagement and understanding of the Florida art collection. Developing these activities strengthened students' skills of observation, research, critical thinking, visual analysis, effective group and peer collaboration, and writing. Each student selected an artwork to focus on for most of the term, researching and developing a well-crafted, engaging label through numerous iterations. Together the labels comprise a collective digital brochure of the Florida Impressions exhibition. Maeve Barger (Business Administration/French and Francophone Studies) observed, among the "parts of the course most meaningful to me were research, museum label writing and learning from interdisciplinary perspectives on art. I did not have much previous experience with research on art, so it was helpful to learn about resources and strategies for doing so. Delving more deeply into the context behind a work enhanced my understanding of its impact." Kaitlyn added, "I am excited to publish my label for Harn visitors. I have learned from this course that there is always more to understand about a piece of art, and I'm glad to share what I have learned to encourage visitors to take a second look."
Maeve characterized her class experience as "fascinating, interactive and challenging," adding "I know that I will never view a museum exhibition in the same way after this class."
Back to all news