Hometown: Born in New York City, raised in South Florida
Major: Double Major in Art History and Political Science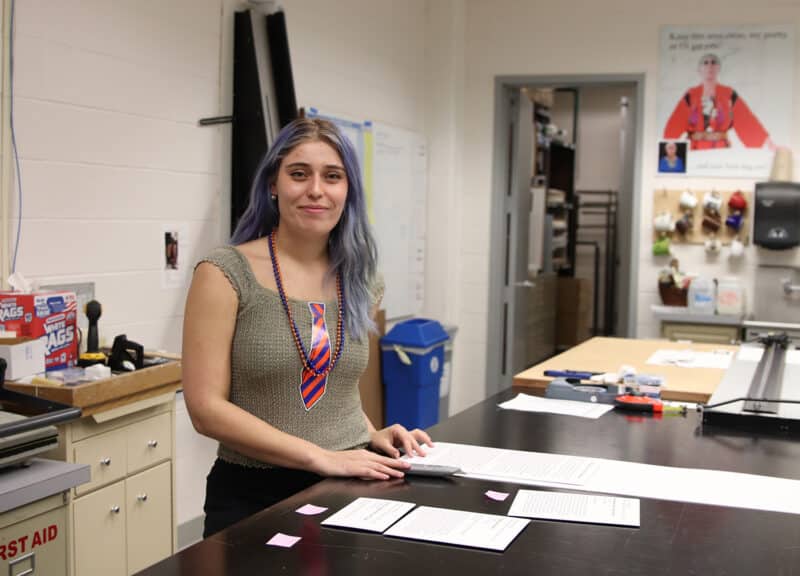 What's something memorable for you that has taken place at the Harn?
In February, I attended a very insightful HESCAH lecture by Professor of Art History at Dartmouth College, Mary Coffey, on select prints by Mexican artist José Clemente Orozco. After the lecture, my fellow classmates and I had the opportunity to speak with Dr. Coffey and ask her more personal questions about her career as an art historian. I absolutely loved picking the brain of an author whom I have engaged with in class discussions!
How important was it for you to receive the Tim Joiner Memorial Internship? 
I had the wonderful opportunity to meet Tim Joiner during my first internship with the Harn's curatorial photography department in the spring of 2022. Since then, I have also had the chance to observe first-hand how the processes and ideas implemented by Tim Joiner are in use almost daily and how his presence has created an ongoing legacy within the Registration Team! The awarded stipend this internship provides has allowed me to build a meaningful CV of practical work experience directly related to the museum field while still being able to meet my financial needs. 
What do you work on as an intern in the Harn's Registration Department? 
Under Senior Registrar Jessica Uelsmann's leadership, I am currently working on entering appraisal data into The Museum Software (TMS) Collection Management system for the generous Samuel H. and Roberta T. Vickers Florida Impressions gift to the Harn. However, I have also assisted with inputting exhibitions and loan data such as location changes, condition reports, and updated object dimensions. Because of the combined curriculum designed for the Tim Joiner Memorial Internship, I also had the opportunity to participate in the exhibition installation routine for the "Posing Beauty in African American Culture" contemporary collection exhibition. I worked closely with Jade Powers, the Curator of Contemporary Art at the Harn, to outfit lighting and text paneling for the museum's largest exhibition hall. 
If you could time-travel, where would you go? 
If I could time-travel, I think I would go 10 years into the future to sneak a peek at where I am heading. If for nothing more than a little bit of reassurance in my life path! 
What's your favorite thing to do in your free time? 
I love attending practices and competitions with my team as a UF Club Cheerleader. Right now, we are in the middle of our busy season as we prepare for our final performance at Nationals later this year! I have been doing competitive cheerleading since I was 10 years old, and continuing the experience into my college career has been a dream! 
Visit the Harn's website to learn more about internships and application deadlines. If you are interested in supporting paid internships at the Harn, please consider making a gift to of any size to the Expanding Student Possibilities Fund or Tim Joiner Memorial Fund. Please contact Alli Hudson, Assistant Director of Development, to discuss other ways to give.