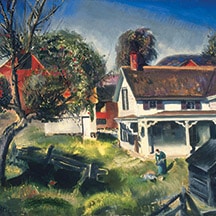 Thinking about Modernity is an instructional resource that compiles graduate student projects developed in a graduate seminar on "Modernist Studies & Pedagogy," taught by English Professor Marsha Bryant in Spring 2019.
This resource includes images, contextual information and discussion questions exploring twelve modern artworks in Harn's collection. It is intended primarily for college-level instruction but may also be useful for high-school teachers. In addition to Arts and Humanities, this Instructional Resource can also prompt conversations about the Sciences and Social Sciences, Engineering, Medicine, and other fields of study. This material may be freely adapted for instructional purposes.
DOWNLOAD THINKING ABOUT MODERNITY
Designed by Elizabeth Lambert, with contributions by Lauren Burrell Cox, S.R. Graham, Nicole Green, remus jackson, Claire Beth Karnap, Burcu Kuheylan, Elizabeth Lambert, Jacqueline Schnieber, Cassidy Sheehan, Deepthi Siriwardena, Allen Thomas and Vincent Wing.
Table of Contents
1. S.R. Graham, "Give Me A Wilderness or A City": George Bellows's Rural Life
2. Burcu Kuheylan, Francis Criss: Locating Monuments, Locating Modernity
3. Jacqueline Schnieber, Seeing Beyond: Approaches to Teaching Salvador Dalí's Appollinaire
4. remus jackson, "On the Margins of Written Poetry": Pedro Figari
5. Claire Beth Karnap, Childe Hassam: American Impressionist and Preserver of Nature
6. Allen Thomas, Subtlety of Line: Palmer Hayden's Quiet Activism
7. Cassidy Sheehan, Modernist Erotica: André Kertész's Distortion #128
8. Lauren Burrell Cox, Helen Levitt: In the New York City Streets
9. Vincent Wing, Happening Hats: Pierre-Auguste Renoir's Le chapeau épinglé
10. Elizabeth Lambert, Diego Rivera: The People's Painter
11. Elizabeth Lambert, Diego Rivera: El Pintor del Pueblo
12. Nicole Green, Household Modernism, Domestic Arts: Tiffany's Eighteen-Light Pond Lily Lamp
13. Deepthi Siriwardena, Marguerite Zorach: Modernism's Tense Vistas