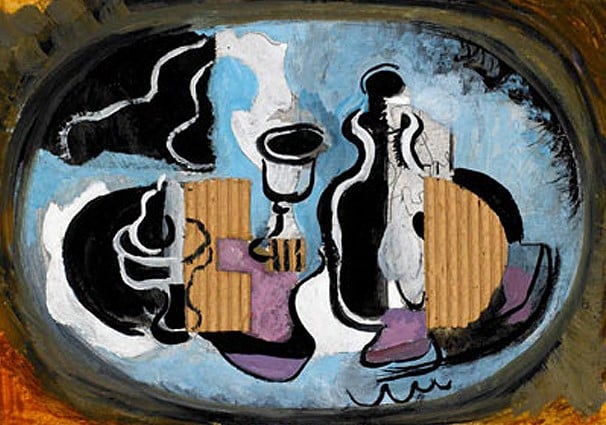 We're drawing inspiration from an artwork by Suzy Frelinghuysen called Cubist Still Life. An artist who creates a still life chooses everyday objects and colors they like and creates a picture using them. Frelinghuysen uses paint and collage to create a still life full of interesting lines and shapes.
What kinds of lines do you see in this painting? What shapes do you see in this painting?
We can create our own interesting lines and shapes by painting with everyday objects!
What You'll Need
• Cover for your art-making surface
• Paper
• Everyday painting tools from around your home (such as string, a fork, paintbrush, rubber band or cotton ball)
• Paint (acrylic, watercolor, or tempera)
What You'll Do
1. Cover your art-making surface. This will help with clean-up since painting can get messy!
2. Find your everyday painting tools. Explore your home for interesting items to paint with.
3. Experiment with paint. Use your everyday household painting tools to apply paint all over the paper.  Play with creating different lines, shapes and patterns by pressing, rolling, drizzling, splattering, dragging and brushing your tools across the paper.
• Take it to the next level by mixing colors and layering your paints, shapes and patterns! What happens when you layer the same color but apply it with different tools? What about if you use the same tools but different colors?
4. Let dry and admire the squiggly, wiggly, curvy, swirly, straight, diagonal lines along with the shapes and patterns you created!
Tips and Tricks:
• Suzy Frelinghuysen also used collage to create her still life. When your painting is dry, explore collaging magazine and newspaper clippings, stickers, sand, glitter or any other everyday material to create a dynamic still life masterpiece.
• Frelinghuysen also added paint on top of her collage. Play with layering by drizzling, splattering, brushing, and/or dragging more paint on top of your collage to add another layer of depth.
Credit: Lesson plan developed by Courtney Toelle, Family Programs Intern and Art History and Museum Studies Master of Arts Student and Keithley Fellow in Case Western Reserve University's Department of Art History and Art.
Image: Suzy Frelinghuysen, Cubist Still Life, ca. 1943, Oil and collage on board, 9 × 13 in. (22.9 × 33 cm), Museum purchase, funds provided by the Caroline Julier and James G. Richardson Acquisition Fund, with additional funds provided by exchange, gift of Helen Sawyer Farnsworth