The Harn Museum is fortunate; it recently purchased a photograph for an upcoming exhibition, Shadow to Substance, that currently does not exist as a fine art print in any museum or commercial gallery. It is an Edition of 1/1, and a story worth telling of how it came to the Harn.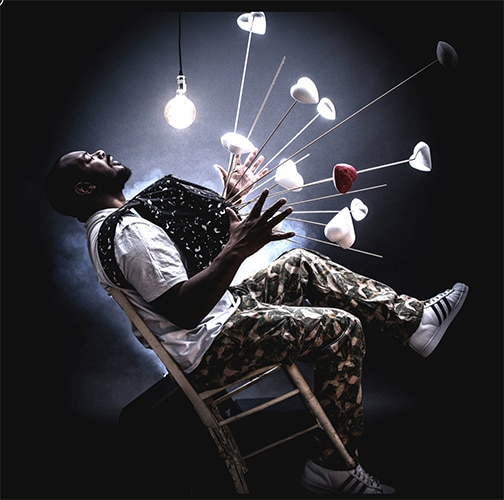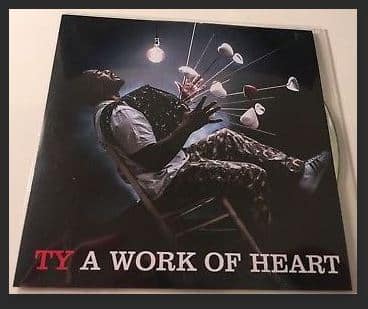 Last fall, Kimberly Williams, co-curator of Shadow to Substance, sent me a link to the website of British photographer, Benji Reid. I was immediately enchanted. Reid describes himself as a "Choreo-Photolist"—how can you not love this?—"where theatricality, choreography and photography meet in a single, or series of images." Reid's background is in dance and theater; it manifests in every aspect of his imagery. Often the subject of his photographs, he dresses in fantastical costumes, holding or riding strange props in gravity-defying poses. Among his characters are an Afrofuturist Ali Baba, a cloud-riding Cowboy Cyclist, a hip-hop, breakdancing Last Supper, and more. All are energetic one-image/one-act plays—humorous, poignant and graceful. The artist says of his images, "Part photography, part prayer, my work is a celebration of love and fragility told through Black masculinity. It is an offering to onlookers about the world I inhabit, which honors the personal and political victories I have sustained to possess health and well-being."
Benji Reid's art connects with the most important things in life: love, friendship, humor, parenthood, creativity, physical/mental balance, music, joy. As did the music of his friend, Benedict "Ty" Chijioke, one of Great Britain's award-winning, most innovative rappers, and the subject of the image above. It was created collaboratively between Reid and Ty for the cover of Ty's 2018 CD titled, A Work of Heart. Described as gracious, kind, and genuine, both men are/were connected to their families and neighborhoods; their respective art forms revel in this bond, at once personal and political. Ty was known across the UK music scene as, "a huge part in the development of Hip Hop and the spoken word," writes UK record producer and broadcaster, Gilles Peterson. "An original voice always sharp, always witty. Today's rappers owe a lot to him." Ty was known, too, as the unofficial "Mayor of Brixton" (his hometown) for the support and help he gave to people in his community. Tragically, Ty passed away in May 2020 from COVID-19 complications.
The curators of Shadow to Substance, Kimberly Williams, Dr. Porchia Moore and myself, wanted A Work of Art for a section in our exhibition that re-defines Black masculinity that consists of images of Black men with heart (literally bursting in Reid's photograph)—men personifying #BlackBoyJoy.* About this section, Dr. Moore writes, "[They] disrupt the visual canon and reframe Black men, restoring their dignity and shaping new narratives around Black masculinity. The result: joy and peace untampered. Father. Brother. Generous. Kind. Uncle. Dreamer. Lover. Friend. Giver. Beloved. Human. Free."  In Fall 2020, we emailed October Gallery/London (which represents Mr. Reid) about the availability of A Work of Art. We did not know of Ty's passing, but learned that its digital file was given to Ty's family by the artist, and a print did not yet exist. However, the Gallery contacted Reid and the Chijioke family with our request for a single print, which the Harn would purchase. They agreed. An Edition 1/1 is now part of the Harn's permanent collection—you will see it in Shadow to Substance amidst a celebratory collage of male vulnerability and affection. Ty's family wrote text for the image which will accompany it each time it is exhibited. We are grateful to all of them for this photograph and its narrative of a brave man awakening—a light bulb literally going off over his head (shades of Ralph Ellison's Invisible Man)—letting his heart burst forth to actualize truth, love and hope.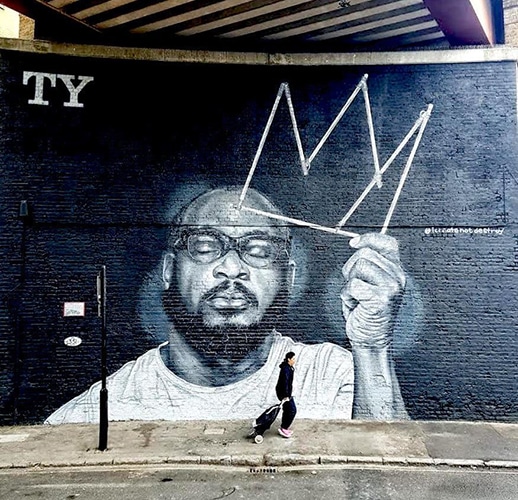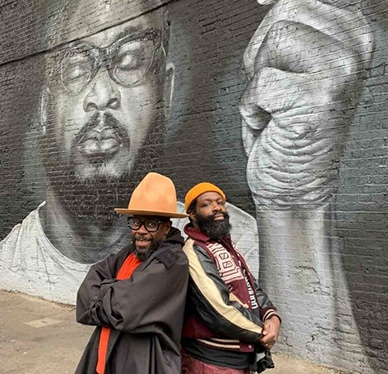 Create Not Destroy artists, Bunny Bread and Jason Caballero, friends of Ty and Benji Reid, created the mural above. It portrays Ty as a dreaming, caring, aspiring King-Imaginator, Rapper-Supreme, placing a magical Jean Michel Basquiat "Crown" upon his head. Another mural in Brixton that honors Ty Chijioke's legacy also depicts Benji Reid's heart-bursting photograph of Ty. The mural is by Carlene De Sozer, who "set about her mission to create an artistic legacy befitting of a man many loved."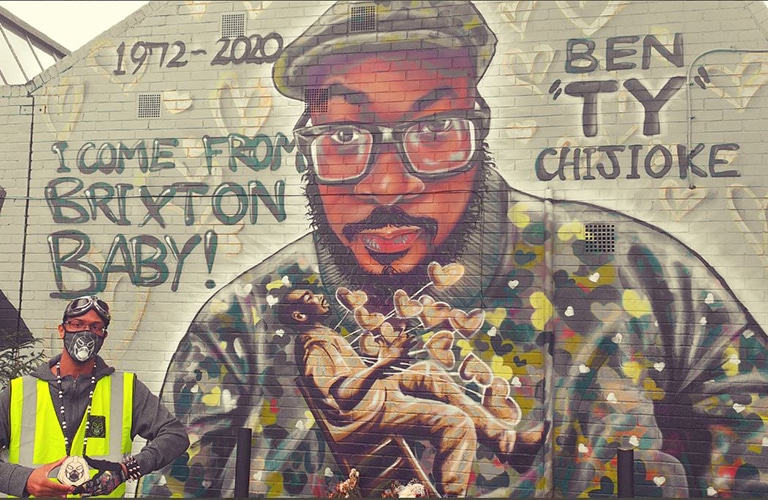 *#BlackBoyJoy https://www.youtube.com/watch?v=X2KdPURYak8