It isn't unusual for artists to build upon content of the past, whether they are imitating it, criticizing it, or tearing it down. (I can't help but think of how Robert Rauschenberg purchased a drawing by Willem de Kooning and then erased it! It was titled Erased de Kooning Drawing, 1953.)
As creatures of the present, people do this naturally, constantly referencing the past and dreaming of the future. We know that we are acclimatized to our time and culture. It seems obvious to say that social forces—social status, race, gender, and location on the planet for starters—form our collective and individual psyches. Sometimes it can be difficult to see past them, maybe even impossible.
Shin Saimdang's 16th century screen paintings (left and right), though still, imply vitality and movement by their composition, their seasonality, and the inclusion of living things. Lee Lee Nam's reinterpretation (2007, middle) animates these classical works and transforms them into multi-dimensional experiences.
Bringing the Past to Life
Taking a stroll throughout the galleries, you will encounter artists who have unconventional collaborators. In the south gallery of the Asian Wing in Everyday to the Extraordinary: Highlights from the Korean Collection, you'll find a multi-media work of the Korean artist Lee Lee Nam (born 1969): two video monitors where he has digitally transformed the Chochungdo (translated as grass and insects paintings) of 16th-century artist Shin Saimdang (1504–1551) into a synchronized presentation.
Butterflies float across the screen, it begins to rain, the mice nibble happily on their bits of watermelon. Lean in and a hint of Pachelbel's Canon plays softly. When asked about his choice of Shin Saimdang for this early work, Lee points to the unique color of her work and playfully imagined what the intersection between the Joseon dynasty artist and a contemporary artist would be like.
In his present work, Lee Lee Nam continues to use classical imagery as inspiration. In his solo exhibition held in Seoul, he extracted his own DNA molecule information and combined the sequences with painting, bringing a whole new meaning to the genre of "self-portrait."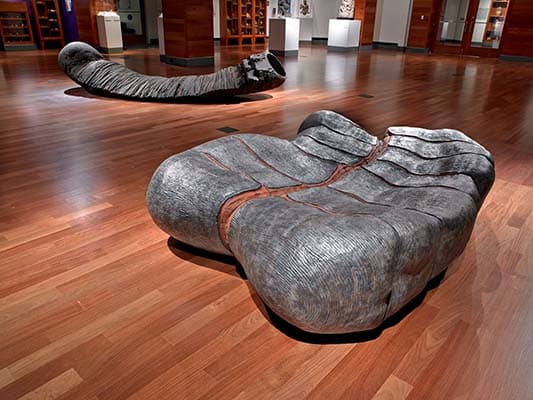 Collaborating with the Unseen
As you exit the gallery into the main area of the Asian Wing, you will be immediately faced with two large sculptural ceramics. The one closest to you is Nakaigawa Yuki's work A Heave to Unfold. The artist lives in an oak forest surrounded by "leaves and mushrooms, reptiles and insects." Fascinated by the dynamism of living things, she tries to reflect the dynamism of the natural world, even including the unseen strength within their forms:
I am interested in the internal structures of living creatures, details such as cells, and their movements. I draw inspiration from this to create processes in which something is divided or merged into something else, as with cell division. I think life itself is miraculous and I want to create works that reflect this.
The way she constructs her large-scale sculptures is also unique: A Heave to Unfold has a total of 12 ceramic pieces which are bolted together from the inside, attached to a ceramic scaffolding. Many of her sculptures are also displayed outdoors, returned to the source which inspired their creation.
To achieve the black color of the fired stoneware, Hoshino Satoru (born 1945) uses an ancient technique called kokotou in which the smoke of burning pine needles impregnates the clay.
Transcending the Personal Past
There are several works in the Contemporary Pavilion in which the artist is indelibly connected to a disaster in his past. In the summer of 1986, a mountain behind Hoshino Satoru's home collapsed. Heavy rain caused a sudden and terrible mudslide which destroyed half of his house and his entire studio.
Since that day, Hoshino has viewed the world differently, and this has directly affected his relationship to his work. Instead of imposing his own ideas onto the clay, he describes the turning point as "facing the clay, and making a conversation with it." Nature, in particular the chaotic energy of the Earth, is considered an active collaborator. The symbiosis is between human being and the natural world, namely, "something that appears between clay and [artist's] hands." Hoshino tries to communicate this to the viewers: I hope that you can feel in your body the energy and the amount of soil that moved when the mudslide happened.
He uses the palms of his hands and fingertips to push and mold the clay creating indentations and patterns—his side of the collaboration.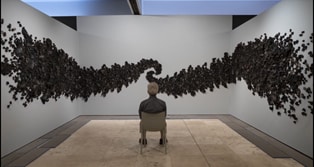 In addition to spiral-shaped forms, Hoshino also creates large installations. In a video essay created by Newcastle Art Gallery in Australia, Hoshino talks about his connection to the art movement Sodeisha and his working process—all while we see the installation of a Beginning Form – Spiral '17, which took six working days to install.
Throughout the Harn Museum, there are several artists' works on view that question the past, actively challenging the status quo and pushing for change. (Just a few examples on view now include Claudia Martínez Garay's Sub America in Plural Domains, Douglas Prince's Picture Plane 07 and Jeanine Michna-Bales' photographs of sites on the Underground Railroad in Shadow to Substance, and Kehinde Wiley's Dogon Couple inGlobal Perspectives.) See what else you can find.
1 Please see Tomoko Nagakura and Jason Steuber, "Fired Dynamism: The Ceramics of Nakaigawa Yuki," Orientations, January/February 2015.
Images:
Attr. to Shin Saimdang, Korean (1504-1551), Chochungdo, Eight-panel folding screen, 2 details, Colors on paper, Collection National Museum of Korea, Sinsu 3550, Photos courtesy of the National Museum of Korea
Lee Lee Nam, Korean, b. 1969, Chochungdo, 2007, Video (5 mins); video monitors in frames, Museum purchase, funds provided by the David A. Cofrin Fund for Asian Art, 2013.40, Photo courtesy of the artist
Nakaigawa Yuki, Japanese, b. 1960, A Heave to Unfold, 2010, Glazed stoneware, 20 1/8 in. x 7 ft. 1 7/8 in. x 55 7/8 in., Gift of Carol and Jeffrey Horvitz, 2017.56.1, Photography by Randy Batista
Hoshino Satoru, Japanese, b. 1945, Beginning Form – Spiral 06 B-2, 2006, Black-fired stoneware, Gift of Hoshino Satoru, 2018.57.1, Photo courtesy of the artist
Detail of Hoshino Satoru, Documentary photo taken by Harn Registration department
Video still, installation of Beginning Form – Spiral '17 at Newcastle Art Gallery, Australia which was included in the exhibition "Sodeisha Connected to Australia," Interview and videography by John Cliff vimeo.com/322385403