The Harn Museum of Art collection includes nine hand-colored engravings from one of Maria Sibylla Merian's (German, 1647–1717) most important publications on the natural world, the Metamorphosis Insectorum Surinamensium (or Insects of Suriname). Merian was an artist, naturalist, and scientist who published books containing lush illustrations of flowers, plants, insects, birds and other animals. These book illustrations were based on her detailed sketches and watercolor paintings which raised the status of scientific illustration. You might not recognize Maria Sibylla Merian by name, but in the late 17th and early 18th centuries, her watercolors were highly regarded and collected by art connoisseurs. In fact, Tsar Peter I of Russia (aka Peter the Great) acquired more than 200 following her death. These are now housed in the Archive of the Russian Academy of Sciences in St. Petersburg.
Today, Maria Sibylla Merian is recognized as a groundbreaker in the fields of botany and zoology. Her important contributions have been celebrated by the United States Postal Service which issued stamps reproducing two of her watercolors—one of a pineapple and one of a citron—in 1997 to mark the 350th anniversary of her birth. These were based on Merian's original watercolors in the collection of the National Museum of Women in the Arts, Washington, D.C. Another interesting factoid: Google released a Doodle in Merian's honor on April 2, 2013, her 366th birthday. Google Doodles are fun changes to the Google logo to celebrate holidays, anniversaries and the lives of famous artists, pioneers and scientists. You can still see the doodle in honor of Merian by following this link: https://www.google.com/doodles/maria-sibylla-merians-366th-birthday
Rather than working from preserved specimens (which was common practice in her day), Merian observed and painted live plants and animals whenever possible. She published her first books on flowers and caterpillars in the 1670s while living in Nuremberg, Germany, before moving to Amsterdam in 1690. At the age of fifty-two, Merian embarked on a trans-Atlantic journey in 1699 to Suriname in South America. The city of Amsterdam sponsored her voyage for the purpose of recording the tropical insects and plants of this Dutch colony. At a time when scientific expeditions were normally undertaken by men, this was a highly unusual—not to mention dangerous—sea voyage to be taken by a woman. She spent the next two years in Suriname until a bout with malaria forced her to return to Amsterdam in 1701.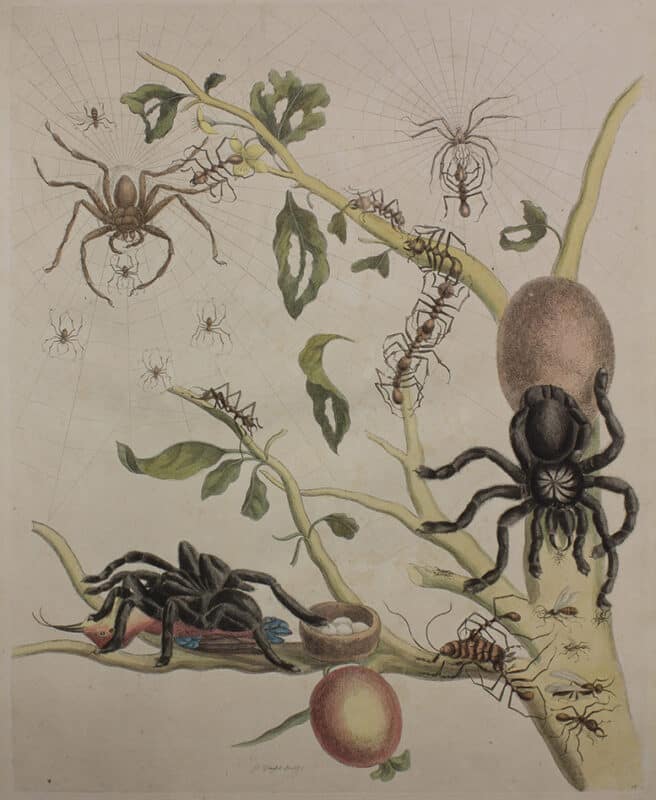 Following her return to Amsterdam, Merian began work on her landmark publication, Metamorphosis Insectorum Surinamensium. Published in Amsterdam in 1705, the book was lavishly illustrated with sixty detailed engravings documenting the stages of development and habitat of many species never before described or drawn in a European publication. Merian's Metamorphosis brought her international fame and was sold in three different versions, including a deluxe version with hand-colored engravings that retained the vivid naturalism of her preparatory watercolors.
The nine hand-colored engravings in the Harn collection capture magical scenes of tropical insect richness! Tarantulas, Hummingbird and Ants on a Guava Tree (Plate 18) depicts the branch of a guava tree with leaf-cutter ants, army ants, pink-toed tarantulas, huntsman spiders, as well as a ruby-topaz hummingbird that is about to be devoured by a tarantula! In another engraving from the Harn collection (Plate 58), Merian depicts a species of the Inga, a genus of small tropical trees and shrubs that produce their seeds in bean-like pods. The butterfly resting atop one of the bean-like pods in Merian's illustration is a Pearly-Eye Butterfly. Some species of Inga, most notably Inga edulis (commonly known as "ice-cream-bean"), contain a podded fruit that is cultivated for its edible white pulp. This engraving will be included in the upcoming exhibition Breaking the Frame: Women Artists from the Harn Collections which opens in September 2020.