Hey Adults! 
Did you know that March is Women's History Month? Women's History Month honors the role of women and the contributions they have made to history, culture and society. Celebrate the important contributions that women have made to art by teaching your tots about key figures in art history!
Featured in the exhibition Breaking the Frame: Women Artist in the Harn Collections, Maria Sibylla Merian, Jane Webb Loudon and Priscilla Susan Bury were all important artists whose works in scientific illustration made significant impacts in art, botany and women's history.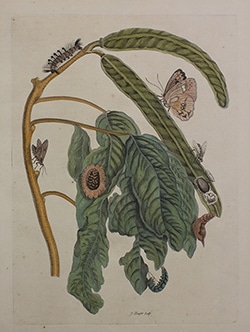 Maria Sibylla Merian
In a time when few women were educated or literate, Maria Sibylla Merian was a trained artist and devoted naturalist who wrote and illustrated scientific texts on flowers and insects. She was fascinated by insects and spent most of her life collecting and studying moths and butterflies. Her richly illustrated books have been celebrated by art historians, but they also provided significant contributions to the study of ecology, being the first to depict the entire life cycles of insects along with their host plants.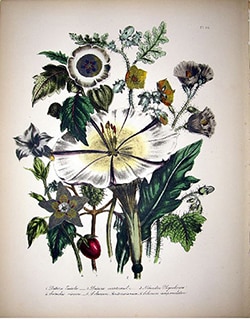 Jane Webb Loudon
Jane Webb Loudon was an accomplished author of horticultural guides. Married to John Claudius Loudon, one of the most important nineteenth-century landscape gardeners and horticultural writers, her works contain some of the most attractive lithographed botanical illustrations from that era. Through her skillfully illustrated books, she hoped to promote a taste for gardening as art and to make the subject of horticulture more accessible to popular audiences.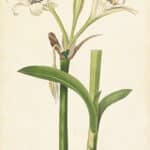 Priscilla Susan Bury
Priscilla Bury considered herself to be an amateur botanist. Her family home in Liverpool was known for its gardens and large greenhouses featuring exotic plants. In her preface to her book, A Selection of Hexandrian Plants (London, 1831–1834), which included 51 hand-colored plates based on her paintings of amaryllis and lilies, Bury wrote that her main goal was to "preserve some memorial of the brilliant and fugitive beauties, of a particularly splendid and elegant tribe of plants."
Each artist found inspiration in the plant life around them then created illustrations using different printmaking techniques, like engravings, lithographs and reliefs. Drawing inspiration from Merian, Loudon and Bury, get creative with your tot by making your own nature-inspired relief prints using everyday, at-home materials!
Definitions
Botany: the study of plants
Scientific Illustration: art that is made for the sake of science
Printmaking: the process of creating art by transferring an image from one surface on to another
Relief Print: a printmaking technique where a design is carved and cut away to leave a raised surface that is inked and printed
What You'll Need
Styrofoam or craft foam
Pencil or pen
Washable markers or watercolors/paintbrushes
Paper
*  Experiment with different combinations of materials for different results! *
What You'll Do
1. Find a piece of foam. Craft foam can be found at your local craft store or dollar store. Styrofoam can be collected from takeout containers or food packaging.
2. Find some objects in nature that spark your curiosity, such as a bug or a plant. Draw these objects onto the foam. Press and drag your pen/pencil carefully into the foam, making sure that you do not press through to the other side.
• Tip: Practice your design on a separate sheet of paper first.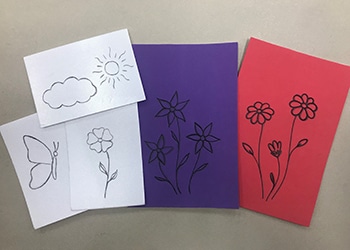 3. Apply color to your foam drawing with a washable marker or with watercolor paints. Experiment with using multiple colors to mark different areas of your drawing.

4. Press the colored side of the foam face down onto the sheet of paper. Use the palm of your hand to firmly rub the entire surface of the foam.
5. Carefully lift the foam off the paper to reveal your relief print!
6. Create a series of colorful prints by wiping down your foam then repeating steps 3 – 5. Experiment with drawing new designs on different sheets of foam to create a page full of scientific illustrations!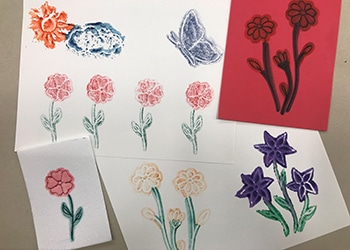 Resources
Read children's book about influential women artists:
Read about the historical importance of botany for marginalized groups:
Discover important figures in the field of botany:
Marie Clark Taylor
Ynes Mexia
Janaki Ammal
Roseli Ocampo-Friedmann
Experiment further with an at-home scientific illustration activity:
Harn at Home: Observing Nature Activity
Lesson Plan by Briana Rosa, Family Programs Intern and 2nd-year Education Sciences Student in UF's College of Education.