Museums are full of objects that have had past lives. Lives that include ownership, display, exhibition history, and sometimes food! Working in the Asian wing and working with traditional religious art at the Harn Museum of Art, random thoughts about incarnations in everyday life often come to me. When I refer to past lives in this instance, though, I'm talking about the experience that the object had before it became a vehicle for aesthetic appreciation…when its functionality or place in the world was its primary purpose for being.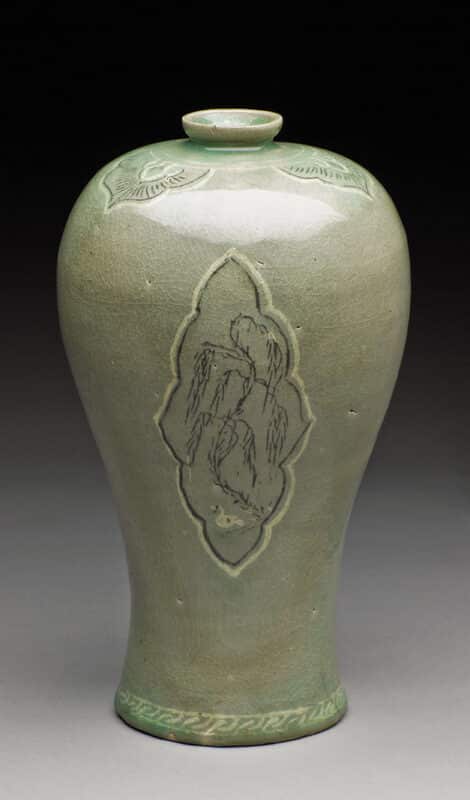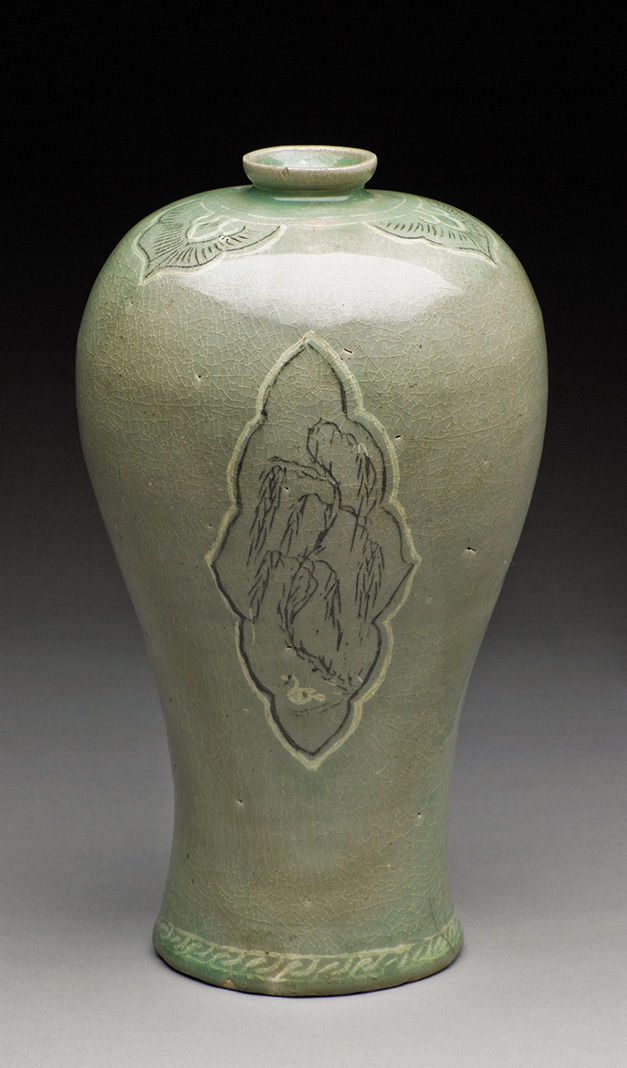 If you spend some time in the Korean gallery, you'll see many formerly functional objects that are displayed as objects of contemplation. In particular, there is a maebyeong, or plum vase that has a past life that may surprise you. It was made in the Goryeo1 Dynasty (918–1392), at a time when the production of celadon ceramics flourished between the 11th and 14th centuries. Although inspired by Chinese tradition and technology, celadons produced in Korea developed a distinctive identity and style of their own. Under the glaze, potters inlaid pictorial designs with black and white slip (sanggam)—in this case, ducks and water grasses are highlighted in a central cartouche. The beautifully crackled glaze? That's a good thing, too.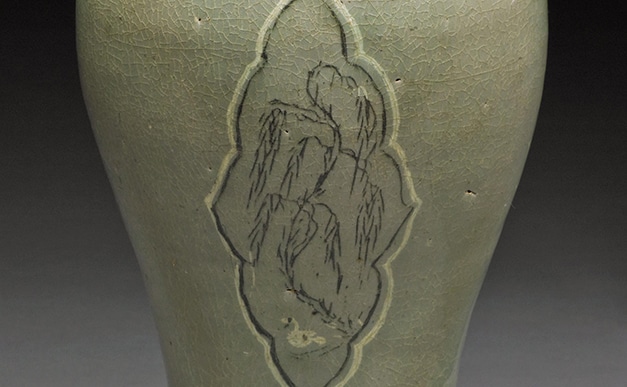 Art historians talk about vases as one would describe a body, as if these are little human torsos. Maebyeong are characteristically curvy, with large, rounded "shoulders," a tapered "waist," and a small, cup-shaped "mouth." (And yes, a flared "bottom'" which may or may not be a body reference—you decide.) Some maebyeong, like the one at the Harn, have a series of designs on the shoulders which may correspond to the Goryeo-period practice of covering the mouth of the vessel with a cloth.
So in its past life, before looking fabulous under Plexiglas at our museum, what was it used for? Maebyeong have long been considered storage vessels for wine or alcoholic beverages; some still have a cup that accompanies them and fits over the top.
During the Goryeo Dynasty, a ship full of regional specialties sunk in the East Sea on its way to the capital. Amid the shipwreck's remains were two maebyeong, which were ultimately featured in an exhibition organized by the National Research Institute of Maritime Cultural Heritage. Accompanying the vases were wooden tags that described their contents, valuable gifts of honey and sesame oil, and the intended recipients of such gifts. This discovery shed new light on the perception that they were used mainly to hold alcoholic beverages.
Nothing makes me happier than when art and food history come together. As a perpetually hungry art historian and food lover, this kind of synergy makes for a good day. If you like this kind of thing, there is a list below of excellent exhibition catalogs and books that will excite the foodie/art lover/hungry person.
On a smaller scale, it is possible to be inspired in the kitchen by our single prunus vase. What better way to show off what you've learned about the maebyeong by preparing a meal in its honor?
To this end, a traditional preparation referred to in the Dongguk Sesigi (Record of Seasonal Customs in Korea, 1849) is listed below, featuring sesame oil, as may have been kept in our lovely maebyeong.
Mashikeh-mogo!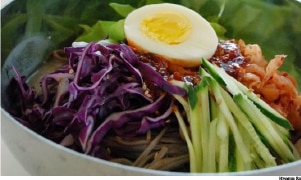 For the sauce:
3 Tablespoons gochujang paste (fermented chili paste, available in Asian markets)
1 Tablespoon gochugaru (or chili pepper flakes)
2 Tablespoons sugar or honey
2 Tablespoons rice or apple cider vinegar
1 Tablespoon soy sauce
1 clove garlic, minced
1 Tablespoon sesame oil
1 Teaspoon sesame seeds
For the noodles:
1 cucumber, julienned
3–4 red cabbage leaves, julienned, 3–4 lettuce leaves
½ cup thinly sliced kimchi
8 ounces buckwheat flour noodles
1 egg, hard-boiled (optional)
Directions:
For the sauce:
In a bowl, mix together all of the sauce ingredients and set aside. Keep (the sauce) cool.
For the noodles:
Place all of the prepared vegetables in a bowl and keep cool in the refrigerator.
Bring a medium-sized pot of water to a boil over high heat. Cook the noodles according to the package directions. Drain quickly and shock in cold water to stop the cooking process. Drain and rinse the noodles in icy water. Make 2 single-serving-sized mounds. Place the mounds in the colander to drain.
Place the noodles in the middle of a serving bowl and arrange the cold vegetables and eggs (if using) over the noodles. The sauce can be served on top or separately.

Further reading
Albala, Ken. The Food History Reader: Primary Sources. London, New York: Bloomsbury Academic, 2014.
Clunas, Craig. "Wine Foaming in Gold, Tea Brewing in Jade: Drinking Culture in Ming Dynasty China," Oriental Art, vol. XLIV, no. 2, (Summer 1998): 8–10.
Hamilton, Roy W. The Art of Rice: Spirit and Sustenance in Asia. Los Angeles: UCLA Fowler Museum of Cultural History, 2003.
Korean Cuisine: An Illustrated History. London: Reaktion Books, 2008.
Moon, Seungsook. "Buddhist Temple Food in South Korea: Interests and Agency in the Reinvention of Tradition in the Age of Globalization," Korea Journal, vol. 48. no. 4(Winter 2008): 147–180.
Priewe, Sascha. "Ritual and Revelry: The Art of Drinking in Asia: An Exhibition at the British Museum," Orientations, vol. 43, no. 6 (2012): 92–97.
Rose, Sarah. For All the Tea in China: How England Stole the World's Favorite Drink and Changed History. New York: Penguin, 2011.
Walraven, B. C. A. "Bardot Soup and Confucian's Meat: Food and Korean Identity in Global Context" In K. J. Cwiertka & B. C. A. Walraven (Eds.), Asian Food: the Global and the Local. Honolulu, HI: Routledge, 2002.
1 Before the system of Romanization changed from McCune-Reischauer to the Revised Romanization (in the South) in 2000, this dynasty was called Koryo. The modern name of Korea is derived from this dynasty's name