A photograph has recently entered the Harn Museum's Collection, arriving just before the COVID-19 shutdown. Titled Harem Women Writing, it is by the Moroccan artist Lalla Essaydi (born 1956 in Marrakesh, now living in Boston & New York), from her series, Les Femmes du Maroc. It will be exhibited next spring.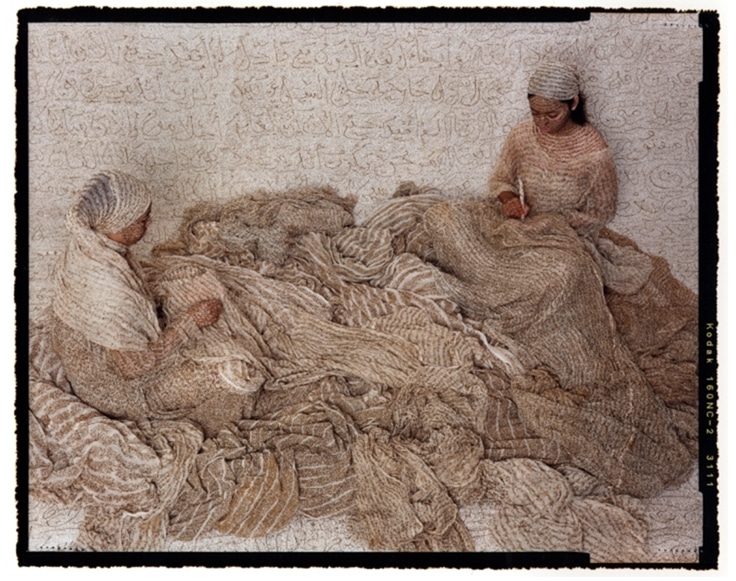 The photograph is beautiful and seductive, as is all of Essaydi's art. In the image, fabrics fill the central space like a gigantic parachute that might inflate at any moment to carry away the two young women absorbed in its midst. Heads bent, they appear to write copious words in henna over every surface (btw, this is not Photoshopped text laid over the existing image, but henna-based writing painstakingly applied to every object solely by the artist). How long have they been at it? More to the point, what are they saying?
Essaydi's models are often set in an unoccupied house that is part of the Essaydi family compound. (The notion of a "compound" conjures a privileged social class, as does Essaydi's high school education in Paris, where she likely saw 19th-century paintings by male artists who eroticized Harem women from a mythic "Orient.") Women who disobeyed were sent to the empty house on the Essaydi property in punishment (to my mind that would be a relief! — like 'time out,' especially if a sister or cousin were in tow with whom to commiserate, or plan an escape). In many of Essaydi's images, her all-female models quietly rebel by writing in calligraphy (practiced by men only) and in poetry and verse (also a male preserve). What the artist is proclaiming here is a new Islamic feminism, an assertion of herself and her subjects in order to express who they are and what they want. They are talking back; they will not be silent or invisible! This is protest, albeit a soft rendering of it, coming from a sector of the population we might stereotype as without voice.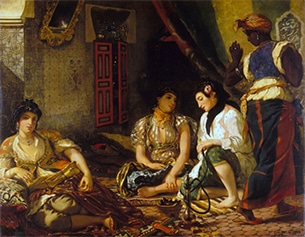 Essaydi came onto the western art scene in the early 2000s. The Iraq War was in full force. Western eyes were scrutinizing the Middle East intensely. The Arab world, in our naivete, seemed monolithic: all Arab men were suspect and Muslim, all women oppressed. (Imagine for a moment the opposite: if Arab cultures saw "the West"—France, Great Britain, Germany, U.S., and the like—as one culture, one religion.) In parts of the Arab world, an ideological rift was growing between the sexes, especially among Arab women of means (such protest is less easy for less privileged women.) Essaydi's art breaks through traditional barriers set from within, and stereotyped from without, loosening female oppression by using similar 19th-century Euro-erotic male aesthetic tropes regarding Arab women (she has drawn criticism for the latter.) Yet her art and life are testimony to an insistence on autonomy. Essaydi has embraced western and Middle East/North African cultures; she also lived in Saudi Arabia. At the age of 40, she moved to the U.S. to enroll at the School of the Museum of Fine Arts, at Tufts University, a brave and self-reliant move. She is among a cadre of Arab women artists who continue to disturb the status quo. The Harn welcomes Essaydi into the collection as one of the initiating voices in Arab feminist photography.