During the month of March, we honor women's contributions to American history, culture and society. For the past decade, the Harn's curators have made a concerted effort to increase the museum's representation of women artists' work. A recent major gift of Florida-themed art significantly boosted this initiative by adding oil paintings, watercolors and drawings by 128 women artists. Selections are on view in the exhibition A Florida Legacy: Gift of Samuel H. and Roberta T. Vickers, in the Gladys Gracy Harn Exhibition Hall through August 1. Here, I would like to focus on one of these artists, Laura Woodward.
Laura Woodward (American, 1834–1926) was born in Mount Hope, New York. By the early 1870s, she was working as a professional artist in New York City and had established a reputation as a painter of landscapes depicting the Hudson River Valley and the surrounding area, including the Catskill, Adirondack and White Mountains. She first visited St. Augustine, Florida, in the 1880s and befriended other artists, such as Martin Johnson Heade, who gathered at the Hotel Ponce de León, now part of Flagler College. Completed in 1888, this grand hotel built by millionaire developer Henry M. Flagler included studios and spaces for artists to exhibit their work. By this time, Woodward was an established artist in her mid-50s and had exhibited her paintings extensively in the Northeast. Captivated by Florida's unspoiled nature, she painted small oils and watercolors en plein air (outdoors).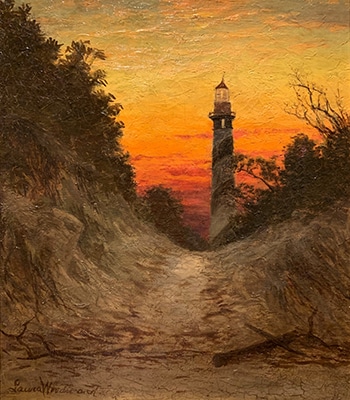 During the late 19th century, the islands and forested wetlands of Florida's east coast were already becoming popular travel destinations for those who could afford to travel there. Travel and sporting literature of the period described the region as an exotic Eden and praised its lush vegetation and tropical climate. By the 1890s, Anastasia Island, a barrier island just east of St. Augustine, had become a mecca for beach lovers who reached the area by crossing Matanzas Bay in sailboats. Woodward's Anastasia Island Lighthouse, 1892, captures the famed spiral-striped lighthouse, impressive dunes and a dramatic golden sunset. Measuring only 13 by 11 inches, small oil paintings like this held a direct appeal to tourists who could purchase them in St. Augustine hotels as souvenirs of their travels.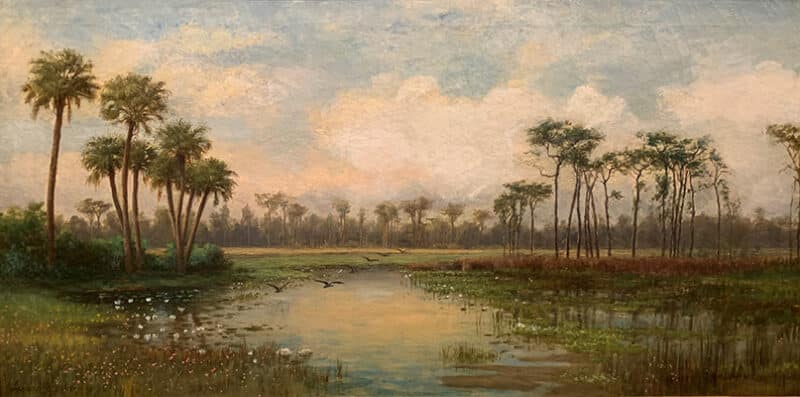 Woodward's undated Swamp Landscape is a major oil painting that presents an expansive view of the Everglades wetlands in Southern Florida. Given its large size (20 x 40 inches), Woodward would have painted this work in her studio, using her smaller pencil and watercolor sketches for reference. In this lyrical view framed by palm trees and towering pines, a flock of birds skims the surface of the water which is dotted with waterlilies and wildflowers. This contemplative, peaceful scene reveals none of the harsher realities of spending time in a Florida swamp populated by mosquitoes and wild animals. This subtropical wilderness consisting of coastal mangroves, sawgrass marshes and pine flatwoods is home to panthers, bears, snakes and alligators.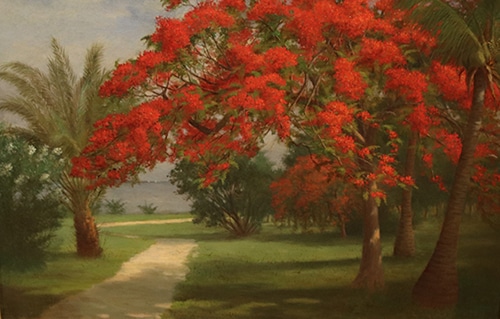 By 1890, Woodward began spending time in Palm Beach and this area soon became her primary residence until just before her death in 1926. In 1894, she established a studio in Henry Flagler's newly completed Royal Poinciana Hotel, a massive wooden structure facing the Lake Worth Lagoon. Flagler named his new hotel after the royal poinciana tree (Delonix regia) known for its brilliantly colored red-orange flowers. Also called flame tree or flamboyant, Woodward was captivated by these trees and depicted them in numerous watercolors and oil paintings. One example is her undated painting, View of Lake Worth, which captures a magnificent royal poinciana tree bathed in sunlight and a meandering path leading to a view of the lagoon.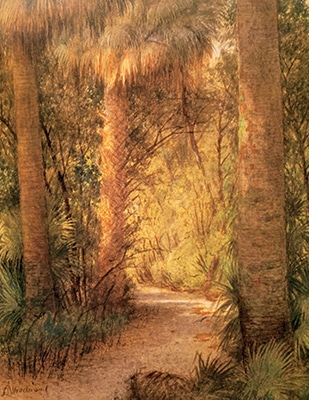 Woodward's masterful renderings of the state's natural and pristine forests, wetlands and beaches introduced audiences in the Northeast to Florida's unique topography. Newspaper reviews, both in New York and Florida, praised her Florida landscapes for their atmospheric effects, natural coloring and realism. By the early 1900s, thousands of tourists were coming to the Sunshine State each year. Through the exhibition and sale of her paintings, Woodward played an important role in publicizing the appeal of Florida to wider audiences at a time when tourism to the state was rapidly expanding. Recognizing the marketability of her paintings, she licensed the reproduction of her works as early postcards (chromolithographs), further expanding her reach to new audiences.