In the March Coffee with the Curators blog, I wrote about Laura Woodward (American, 1834–1926), one of the artists represented in a major gift from Sam and Robbie Vickers including about 1,200 works of Florida-themed art. The collection features a wide variety of artists and themes, creating a sort of visual history of Florida, its unique topography and climate, as well as its people and their daily lives. Selections are currently on view in the exhibition A Florida Legacy: Gift of Samuel H. and Roberta T. Vickers. With this blog, I would like to introduce a group of artists who captured scenes of Miami and how their paintings inform our knowledge about the history of one of Florida's most iconic cities.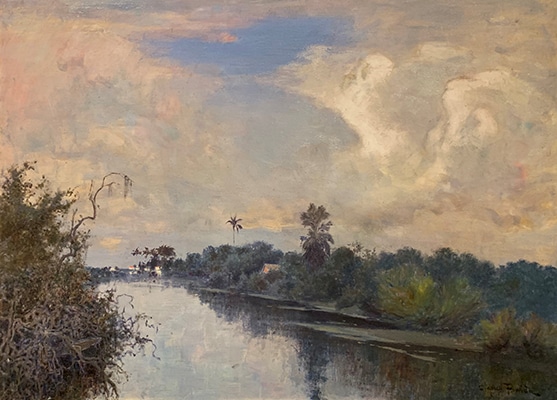 Stephen Maxfield Parrish (American, 1846–1938), father of the famous realist painter and illustrator Maxfield Parrish, established his reputation as a painter of New England landscapes. His contemporaries praised his paintings and etchings of harbors and villages, rocky shorelines and fishing vessels for their close observation of nature. Parrish also depicted scenes based on his travels throughout the United States, Canada and Europe. On the Miami River is a lush river landscape dotted with dwellings under a dramatic cloudy sky. Recognized as the oldest natural landmark in Southeast Florida, the Miami River drains out of the Everglades and runs through the city of Miami, including present-day downtown. Painted in 1900, Parrish's landscape is an important record of a view that has changed significantly over time due to development as well as the forces of nature. Today, the shores of the Miami River feature a multitude of sights including historic mansions, skyscrapers, mobile home parks, cargo terminals, scrap yards, boatyards and a sewage pumping station.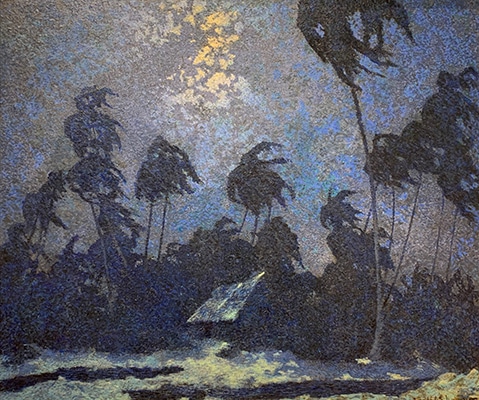 A massive hurricane in September 1926 inspired Franz Josef Bolinger (American, 1903–1986) to paint Hurricane in Miami (1927), a dramatic scene painted in a bold palette of blue and violet hues. The violent sway of the palm trees is echoed in the dappled colors and thick impasto that heighten the emotional intensity of the scene. The US Weather Bureau in Miami described the storm as "probably the most destructive hurricane ever to strike the United States." It hit Fort Lauderdale, Dania, Hollywood, Hallandale and Miami. With winds as high as 150 miles per hour and a death toll estimated to be at least 325 and perhaps as many as 800, no storm in previous history had done as much property damage. Bolinger moved with his family from Illinois to Fort Lauderdale, Florida, when he was two years old, and then to Miami after 1919. He was active as a landscape painter and engineer, and was an avid botanist and naturalist.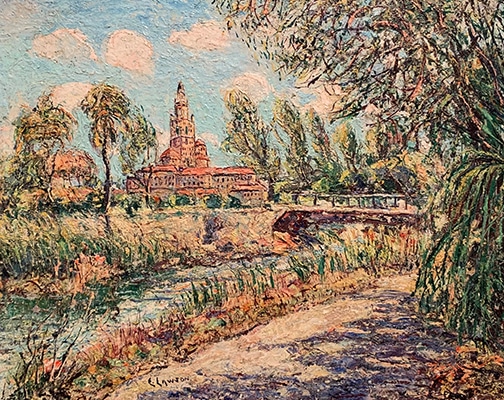 Ernest Lawson (American, born Canada, 1873–1939) was a member of the artists group The Eight, who were largely interested in representing scenes of New York's daily life. Lawson first visited Florida in 1920; by 1931, he was making annual visits to Miami to visit his friends Royce and Katherine Powell. He was inspired to paint his dynamic view, Miami Biltmore (c. 1932), on one of these visits. When it opened in January 1926, the Biltmore Hotel in Coral Gables was the tallest building in Florida. The Biltmore was famous for its gala balls, fashion shows, and world-class golf tournaments, as well as its famous guests including the Duke and Duchess of Windsor, Ginger Rogers, Judy Garland, Bing Crosby, Al Capone and members of the Roosevelt and Vanderbilt families. The hotel served as a hospital during World War II and as a campus of the University of Miami medical school until 1968. Following a $55 million restoration, the Biltmore Hotel reopened in 1987.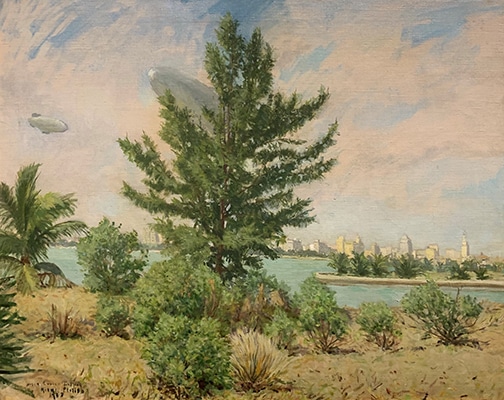 Although based in New York City, Helen Savier DuMond (American, 1872–1968) spent summers in Old Lyme, Connecticut, and Woodstock, New York, where she taught art. Although we know few details about her visits to Florida, she is known to have painted views of Miami, Palm Beach and Sarasota. Miami, Florida with Dirigible Balloons (1933) captures a view along Biscayne Bay with a blimp plying the Miami skyline in the background. From 1925 to 1979, the Goodyear Tire and Rubber Company operated a fleet of airships in Miami, offering limited public rides at its winter base on the man-made Watson Island. In addition, the US Navy operated airships from its base in nearby Opa-locka, just north of Miami.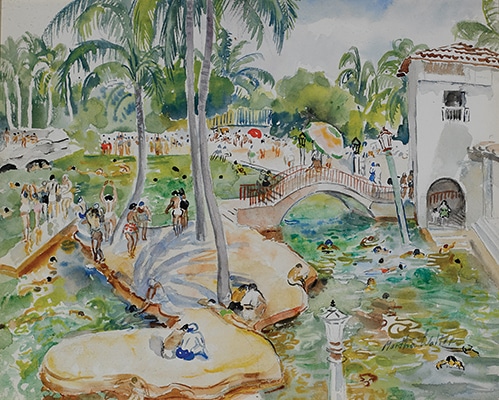 Martha Walter (American, 1875–1976) was a Philadelphia-based artist who was known for her city, park and beach scenes populated with figures. She often painted en plein air (outdoors) in oil and watercolor. She visited Florida sometime after 1900 and is known to have spent time in Palm Beach and Miami. Her lively watercolor of Venetian Pool depicts people enjoying themselves at this historic public swimming pool in Coral Gables. Here we see figures swimming in the water and lounging on rocks amidst Italian-inspired loggias and soaring palm trees. This historic landmark and swimming pool feature caves, stone bridges and waterfalls. Created from a coral rock quarry, the 820,000-gallon pool is fed with spring water from an underground aquifer. Since it opened in 1924, Venetian Pool has been enjoyed by hundreds of thousands of people from all over the world and is still a major tourist attraction.
Visit the Harn Museum this weekend to see these paintings in person and to discover many more fascinating depictions of Florida landscapes and landmarks. Sunday, August 1, is the closing day for the exhibition A Florida Legacy. A smaller selection from the Vickers' gift will return to the galleries as part of Florida Impressions: Gift of Samuel H. and Roberta T. Vickers, opening on September 21.