A community is a group of people with a common characteristic living together within a larger society. A community can foster a sense of belonging through a shared interest, relationship or experience. We each have our own unique understanding of community.
Artists find inspiration in the people, places, objects, traditions and beliefs found in different kinds of communities.
Kehinde Wiley is an African American artist who uses the European art historical tradition of portraiture to highlight Black community members he meets on the streets of cities across the world. Dogon Couple depicts two men from Africa sitting in a pose informed by Dogon art.  The Dogon people of Mali, Africa use sculpture to depict figures in gesturing poses.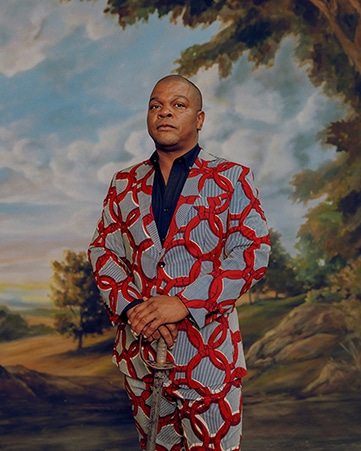 What do you think is the relationship between the men within the painting? What kinds of communities do you think these men belong to? What role do you these men play in their communities?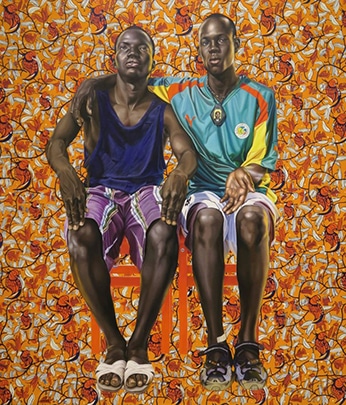 Norman Lewis is an African American artist who used both social realist and abstract expressionist styles, oftentimes to depict racial inequality. Untitled (Subway Station) depicts many people from different backgrounds, races and ethnicities mingling at a subway station.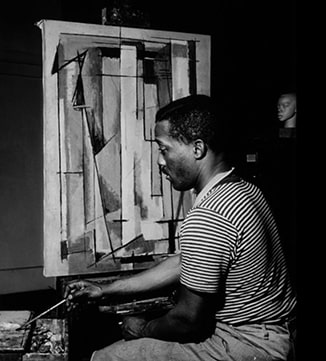 Who are the people in this painting?  Do you think these people are coming or going from their communities? Does this painting remind you of your community? How do you relate or differ?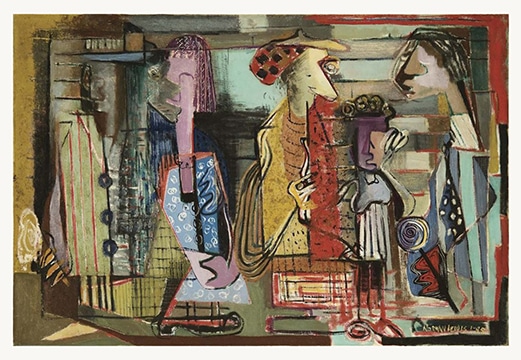 Think about your community; what does it look like? Where is it located? Who is in it? Who, within your community, stands out as a leader? What specific characteristics are found in your community? How do you belong in your community?
How can our communities inspire art-making?
We can use collage to visually portray our community through art. A collage is an artistic composition made of various materials secured to a surface.
What You'll Need
Scissors
Glue or glue sticks
Paper
Collage materials (magazines, newspapers, photographs, stickers, etc)
OPTIONAL: X-acto knife (This tool is sharp. Ask for a guardian to supervise or assist when using.)
OPTIONAL: Drawing material (crayons, markers, acrylic paint, colored pencils, etc.)
What You'll Do
Collect newspapers, magazines, photographs, or other collageable materials to represent the people, places, and things that characterize your community.
Cut out your collage material.
○ Draw inspiration from Kehinde Wiley by cutting out images of people, places and objects to represent your community.
○ Draw inspiration from Norman Lewis by cutting out colors, shapes and patterns to create a non-figural or abstracted collage.
Experiment with arranging and layering then glue your collageable materials onto your paper.
Add details to your collage with drawing materials.
Admire your community inspired masterpiece!
Tips & Tricks
If you chose to feature a community leader in your collage, then consider sharing your work with them!
Make it collaborative! Communities are rarely built of one person. Ask a friend or family member from your community to help you make a collage of your shared world.
Make it a group activity! Invite friends and/or family members to participate in creating. Admire one another's community collages and consider what is similar and different about your art pieces. Do these similarities and differences impact your understanding of community?
First image: Kehinde Wiley, American, born 1977, Dogon Couple, 2008, Oil on Canvas, 96 x 7 ft. (243.8 x 213.4 cm), Museum purchase, funds provided by the David A. Cofrin Acquisition Endowment and Caroline Julier and James G. Richardson Acquisition Fund
Second image: Norman Wilfred Lewis, American, 1909–1979, Untitled (Subway Station), 1945, Oil and sand on canvas, On loan from Art Bridges
Portrait of Kehinde Wiley photographed by Micaiah Carter for TIME
Portrait of Norman Lewis courtesy of Pennsylvania Academy of the Fine Arts Exhibition Procession: The Art of Norman Lewis
Lesson plan developed by Courtney Toelle, Family Programs Intern and Art History and Museum Studies Master of Arts Student and Keithley Fellow in Case Western Reserve University's Department of Art History and Art.