Metal Arts Inspired Foil Embossing
View the object below from our current exhibition Peace, Power and Prestige: Metal Arts in Africa. Then, create your own foil embossed object.
About the Object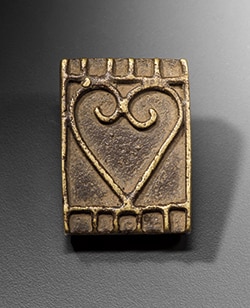 Akan artist, Ghana
Goldweight (abrammuo)
18th – 19th century
Brass
1.75 x 1.375 x 0.375 inches
Collection of Drs. Nicole and John Dintenfass
Photo by Vincent Girier Dufournier
From the 15th – 19th centuries, rich goldfields of the Akan Kingdoms of Ghana in Africa supported flourishing trade. Metalsmiths created standardized cast brass goldweights to regulate the trade of gold. These goldweights are tiny––no more than few inches big. One of the hallmarks of Akan culture are their proverbs that communicate values for leading a happy and meaningful life. The proverbs are spoken and shared visually in all sorts of objects, including the goldweights in this exhibition.
The raised heart shape on this goldweight is an abstract version of the sankofa motif, which pictures a bird with its head turned over its back. The word sankofa is translated as, "pick it up if it falls behind," meaning one can retrieve what has been forgotten or that mistakes can be corrected. It encourages respect for ancestral knowledge and the importance of learning from the past.
A motif is a pattern or design in a work of art. In Akan society, the sankofa bird motif appears frequently in art and remains an important cultural symbol.

What You'll Need
Aluminum foil
Glue
Black paint
Paint brushes
Paper towel or napkin
Scissors
Cardboard, mat board or other sturdy
base
Leaves, cardboard cut outs, or other
material to adhere to your base
What You'll Do
Choose a leaf (or other objects with texture and raised surfaces).
Find scrap cardboard and cut to small pieces to frame your leaf. Alternatively, you can create a new image with bits of scrap cardboard or foam stickers.
– Challenge: Create a simple image with the cardboard [or by drawing with glue and letting it dry] that communicates one of your values. For example, you could cut the cardboard into two circles and one curved line to create a smiley face. Write the value or message you want to share in the form of a proverb.
Glue your objects to your base. (If you are using a leaf, make sure the veiny side is facing up towards you.)
Cut a piece of tin foil slightly larger than your base and cover the dull side with glue.
Place the foil glue side down on top of your objects and press down.
Flip over your base and fold the excess foil down to secure it to your base.
Using a blunt tool such as the back of a paintbrush, begin to trace the outlines of your objects. You can also use your fingers to reveal the textures of your objects.
– Experiment with different tools to create marks on the foil such as combs, forks or toys.
Once you are satisfied with the level of texture showing through your foil, cover the entire surface with a coat of black paint.
Carefully wipe away excess paint with a paper towel or napkin to give a burnished effect to your foil.
Set aside to dry and admire your new foil embossing!